The Mt. Zion Elementary Community Club held it's second annual Hercules Challenge 5k race & 1 mile walk on April 20, 2013. I did this race in 2012 as well, and it quickly became an annual favorite of mine with it's custom clay-fired medals from Next of Kiln and dri-fit tech shirts.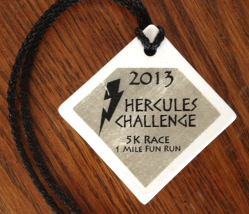 The Hercules Challenge offers race-day registration, however most people that registered day-of did not receive shirts (which the registration form did warn of).
An early-morning DJ and group warm-up got everyone pumped up for the race on the cold April morning. Nearly 140 runners crossed the start line this year, which was an increase from last year.

The fairly-flat course starts at the entrance to Fletcher Park on Henderson St. and heads south, on to rural roads. The course had many volunteers and a water stop at the halfway point. Although the roads of the course were not heavy traffic areas, there were a couple of vehicles that drove through the course as the roads were not closed for the race. The traffic on the course was not a problem, but children and those listening to headphones should be aware that the roads were not closed to traffic.
The finish line used a popsicle stick timing method. Upon entering the large pavilion at Fletcher Park, runners were treated to a DJ and post-race breakfast of pancakes and donuts. Awards (custom race water bottles) were given to the top finisher in each age group and clay-fired trophies were given to the overall winners.
The overall winners were George Bennett and Sarah Selby.
See the Hercules Challenge Results here.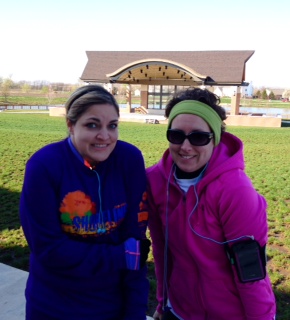 I did this race with my husband, Chris, and my friend Liz. I finished the 5k (3.1 miles) just 6 seconds short of my current 5k PR, agh! The course came up on our GPS as 3.25 miles for reasons unknown. It's possible that the GPS was inaccurate due to the rural roads and possible loss of signal or it could be just an inaccurately-measured course. Either way, I used my watch's 3.1 mile time because I needed an ego boost after consistently finishing every race at 37:00 lately.
We were disappointed that they ran out of medals. My husband and some other people we knew did not receive medals when they finished. We were promised that Next of Kiln would make more and get them to us, but have yet to hear.