September 9, 2017 Start location: Kelly Moore Park Pavilion City/State: Arcola, IL
Start time: 8:00 am Distances & Categories:
---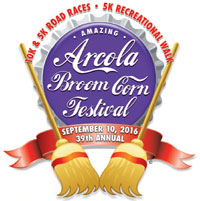 Choose to run either the 5k (3.1 miles) or 10k (6.2 miles) race on brick and hard surfaces through and north of Arcola, Illinois. Finish in downtown Arcola. The 5k course is all in town. 2017 marks the 18th annual 5k race. Course features police escorts, aid stations, and split times. Awards to top three finishers in each age division. Plaque to top overall finishers. Door prizes will be drawn (must be present to win). Festival t-shirt to first 500 entrants.
Starts in Kelley Moore Memorial Park in Arcola, IL at 8 a.m. Registration and packet pick up begins at 7 a.m. $20 on or before 8/25/17 and $25 after 8/25/17.
See more races in:
1 Mile 5K 10K Half Marathon Marathon Relay Mud & Obstacle Runs Night Races Races for Kids Trail
---
---
Disclaimer
Notice: Fat at the Finish is a free race listing website serving the Central Illinois area. We are not the organizers or race directors of ANY event. Any questions or concerns regarding the races listed on this website should be directed towards the organizers of the race, of which the contact information can be found at the race's official website or contact information may be listed on this website.
Fat at the Finish Central Illinois races information is subject to change. Please verify all race dates, times, locations, prices, etc. with the official race website, flier or race director. If you would like to promote a central Illinois race on this website, please Submit a Race or email nicole@fatatthefinish.com.
---