June 24, 2017 Start location: Fairview Park Pavilion #1 City/State: Decatur, IL
Start time: 7:00 am Distance(s):
---
Join the fight against Ovarian, Breast and Cervical Cancer!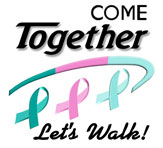 Help us save lives and end Ovarian, Breast and Cervical cancer forever By empowering people, ensuring quality care for all and eradicating these cancers for good.
The seventh annual Come Together Let's Walk! will be held on June 24, 2017. This community event focuses on the fight against Ovarian, Breast and Cervical cancer. The logo, with three ribbons, symbolizes efforts in educating all women about these diseases and brings them under one umbrella of education, awareness, screening and treatment.
The event includes a competitively timed 5K run and a one mile and 5K walk.
Free tee shirts are included as part of the registration with special shirts for survivors. Sponsorship and pledge opportunities are available.
Saturday, June 24, 2017
7:00 AM Pre-Activities • 8:15 AM Walk/Race
Register In Person June 22-23 at Hickory Point Mall in Forsyth, IL
Group Registration
Any business, organization or team of friends may register as a group by mailing 15 or more entry forms and checks in one envelope by JUNE 1. Also include a list of group members, T-shirt sizes, survivor T-shirt sizes, and a group captain's name, address, and telephone number. T-shirts and Race numbers will be delivered to the captain on Tuesday, June 21. Call 217-433-5434 for more information.
Packet Pick-up
When: TBA at Hickory Point Mall.

Each participant must pick up a Walk T-shirt and number. T-shirt sizes are distributed on a first-come, first-serve basis. We are unable to guarantee availability of T-shirt sizes. No children sizes.
You may also pick up your T-shirt and number on Event Day from 6:00 a.m. – 7:30 a.m. in the Registration Area. On event day you must pin your number to the front of your shirt or you will be asked to show proof of registration.
Parking
Westminster Presbyterian Church lot at 1360 W. Main St.
Millikin University's West Main Street lot, Wood Street lot (Wood and Fairview), the Oakland Avenue lot, and the Kirkland lot
Fairview Plaza spaces southeast spaces only
A shuttle service will run from 6:30 a.m. until 7:30 a.m. between Fairview Park and Fairview Plaza, Wood Street parking lot and Oakland Street parking lot.
Assisted Parking is available in the park and can be accessed using the Big Pavilion entrance until 7:00 a.m.
Visit www.cometogetherletswalk.com for more information.
See more races in:
1 Mile 5K 10K Half Marathon Marathon Relay Mud & Obstacle Runs Night Races Races for Kids Trail
---
Disclaimer
Notice: Fat at the Finish is a free race listing website serving the Central Illinois area. We are not the organizers or race directors of ANY event. Any questions or concerns regarding the races listed on this website should be directed towards the organizers of the race, of which the contact information can be found at the race's official website or contact information may be listed on this website.
Fat at the Finish Central Illinois races information is subject to change. Please verify all race dates, times, locations, prices, etc. with the official race website, flier or race director. If you would like to promote a central Illinois race on this website, please Submit a Race or email nicole@fatatthefinish.com.
---