May 13, 2017 Start location: Historic Downtown Springfield, IL City/State: Springfield, IL
Start time: 10:00 am Distance(s):
---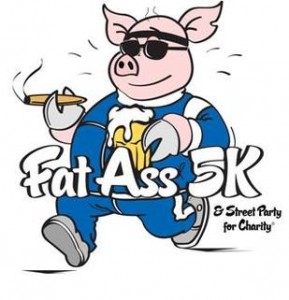 Online Registration
Only 1/10 mile if you take our signature "Fat Ass Detour" straight to the Celtic Mist Pub!
Limited to the first 5,000 Registrants
The race includes beer, corn dog, donut, and ice cream stops along with live music and entertainment throughout the race route. The 5K is followed by a street party that includes a pig roast with all the fixins, cold Pepsi, Coors beer, barbecue and more live music. All profits go to charity. Please help us continue supporting our charities in 2017.
Preview Party / Packet Pickup
Friday, May 12, 2017 from 4-10pm
Limited race day pickup
Race Day Schedule
Saturday, May 13, 2017 at 10 a.m.
Street party is from 11am-3pm
Located in downtown Springfield, IL on 7th street between Adams and Washington
For more information, visit www.fatass5k.com
See more races in:
1 Mile 5K 10K Half Marathon Marathon Relay Mud & Obstacle Runs Night Races Races for Kids Trail
---
Disclaimer
Notice: Fat at the Finish is a free race listing website serving the Central Illinois area. We are not the organizers or race directors of ANY event. Any questions or concerns regarding the races listed on this website should be directed towards the organizers of the race, of which the contact information can be found at the race's official website or contact information may be listed on this website.
Fat at the Finish Central Illinois races information is subject to change. Please verify all race dates, times, locations, prices, etc. with the official race website, flier or race director. If you would like to promote a central Illinois race on this website, please Submit a Race or email nicole@fatatthefinish.com.
---