August 19, 2017 Start location: Fairview Park Pavilion #1 City/State: Decatur, IL
Start time: 5:00 pm Distances & Categories:
---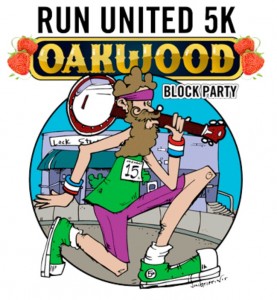 Join us for Run United 5K point to point race to the Oakwood Street Festival.
Runners will begin at Fairview Park by the Main Pavilion, down the bike path and up to W. Main Street (Eastbound lanes will be closed for runners) and cross the finish line at the Oakwood Block Party! Everyone is encouraged to join the after race party at Fleet Feet Sports and listen to live music at the Oakwood Block Party after!
DETAILS:
Time: 5 pm race start with post run after party at Fleet Feet Sports until 8 pm. Food and Beverages will be provided. We encourage you to attend Oakwood Street Festival after the post race party for amazing bands and continue the fun.
All participants receive a wristband for access to post race party. Additional wristbands will be sold for $10 for family and friends..
Complimentary shuttle service provided before the race by Fleet Feet Sports.You can park your car by Fleet Feet Sports and we can shuttle you to the race start. Last shuttle to Fairview @ 4:30 PM. Make sure to arrive prior to 4:30 PM
NEW FOR2017: Entry includes a unique TECHNICAL TRUCKER HAT
Chipped timed race by our friends at It's Race Time.
 $25 gift card to Fleet Feet Sports for overall male and female winner. Age group winners get at $10 Fleet Feet Sports gift card, second place gets a $5 one and third place gets a coupon to a local business.
Start Time: 5:00pm CDT
Price: $25.00 Race Fee + $2.50 SignUp Fee
Registration: Registration ends August 19, 2017 at 5:00pm CDT
For more information, visit Fleet Feet Sports of Decatur, IL.
See more races in:
1 Mile 5K 10K Half Marathon Marathon Relay Mud & Obstacle Runs Night Races Races for Kids Trail
---
---
Disclaimer
Notice: Fat at the Finish is a free race listing website serving the Central Illinois area. We are not the organizers or race directors of ANY event. Any questions or concerns regarding the races listed on this website should be directed towards the organizers of the race, of which the contact information can be found at the race's official website or contact information may be listed on this website.
Fat at the Finish Central Illinois races information is subject to change. Please verify all race dates, times, locations, prices, etc. with the official race website, flier or race director. If you would like to promote a central Illinois race on this website, please Submit a Race or email nicole@fatatthefinish.com.
---