April 22, 2017 Start location: Reagan Athletic Center City/State: Eureka, IL
Start time: 7:40 am Distance(s):
---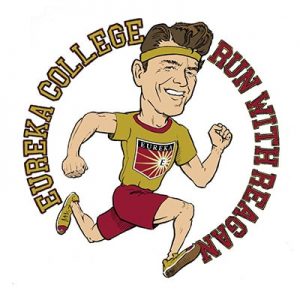 5K Run: 8 am & 1 Mile Fun Run/Walk: 7:40 am
Saturday, April 22, 2017
All Entries Receive a Race T-Shirt & Pancake Breakfast
Race Day Registration and Packet Pick-Up from 7–7:45am
Awards for Top Overall Male/Female Runners & Age Division Awards
Age Divisions for the 5K Event: 0–14, 15–19, 20–29, 30–39, 40–49, 50–59, 60–69, 70+
The Route: The starting line will be at the corner of Reagan Drive and Burgess Street and will continue north until turning east on James Street, south on Dickinson Drive, and west on Reagan Drive. This square will be completed three times with the last lap being extended north until making a left on College Avenue, ending the event in front of the Dickinson Commons, where the pancake breakfast will be held.
More Information
Race Website: eureka.edu/alumni/run-with-reagan
Facebook Page: facebook.com/eurekacollege
See more races in:
1 Mile 5K 10K Half Marathon Marathon Relay Mud & Obstacle Runs Night Races Races for Kids Trail
---
Disclaimer
Notice: Fat at the Finish is a free race listing website serving the Central Illinois area. We are not the organizers or race directors of ANY event. Any questions or concerns regarding the races listed on this website should be directed towards the organizers of the race, of which the contact information can be found at the race's official website or contact information may be listed on this website.
Fat at the Finish Central Illinois races information is subject to change. Please verify all race dates, times, locations, prices, etc. with the official race website, flier or race director. If you would like to promote a central Illinois race on this website, please Submit a Race or email nicole@fatatthefinish.com.
---