May 13, 2017 Start location: Washington Park City/State: Ottawa, IL
Start time: 7:00 am Distance(s):
---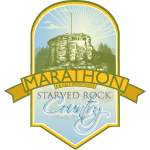 Now in its 4th year, the 2017 Starved Rock Country Marathon and Half Marathon have become the "must do" event of the running community in central Illinois. The Marathon course will again encompass the scenery of the Illinois River, the neighborhoods of Ottawa, IL and the rolling landscapes in and around Starved Rock State Park. Runners will be inspired by the scenery of rolling country hills and natural rock formations tucked into heavily wooded areas created by the Illinois River thousands of years ago. Also the record eligible marathon course has 16 aide stations with GU at one aid station and Gatorade at each station. The Half Marathon course will also experience the neighborhoods of Ottawa in addition to wooded scenery and sites along the Illinois River. the Half Marathon is a flat, fast course making for a nice run through country and city alike. Each runner will receive a participant shirt and finishers receive a race specific medal which will be the fourth in the series.
More Information:
Race Website: starvedrockcountrymarathon.org
Facebook Page: facebook.com/starvedrockcountrymarathon
See more races in:
1 Mile 5K 10K Half Marathon Marathon Relay Mud & Obstacle Runs Night Races Races for Kids Trail
---
Disclaimer
Notice: Fat at the Finish is a free race listing website serving the Central Illinois area. We are not the organizers or race directors of ANY event. Any questions or concerns regarding the races listed on this website should be directed towards the organizers of the race, of which the contact information can be found at the race's official website or contact information may be listed on this website.
Fat at the Finish Central Illinois races information is subject to change. Please verify all race dates, times, locations, prices, etc. with the official race website, flier or race director. If you would like to promote a central Illinois race on this website, please Submit a Race or email nicole@fatatthefinish.com.
---