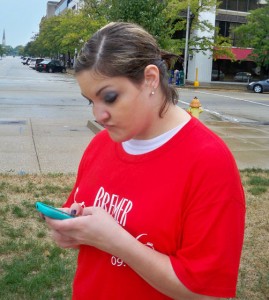 Chris & I did a new kind of race on Saturday. We did the Bremer Race for the Rock in downtown Peoria, IL. This race was a scavenger hunt through the downtown of Peoria, IL to earn points to win a $12,000 Tacori diamond ring! No, we didn't win. We lost by a lot, in fact. But it was a lot of fun!
The whole race's clues and directions were delivered via text message and we then rode bikes to different locations downtown to complete a challenge or answer a question.
I was really scared to ride a bike since I haven't done so since I was younger (probably before I was able to trade my bike for a car lol). We practiced at Chris's parent's neighborhood the night before and I was pretty shaky. I had a lot of trouble steering and pedaling too :) By the time of the race I was doing pretty good! Maybe I can start cross-training by biking now.
The beginning of the race was terrible. I wanted to quit before it even began. It was storming and pouring down rain. I was soaked through my 2 shirts I was wearing. I was freezing and shivering. I was about to break down and cry. It finally stopped raining and we were wet the whole day.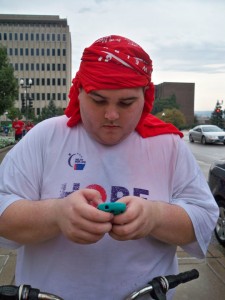 The rain broke Chris's cell phone and damaged the screen of my camera. Our white shirts and my white bra underneath were stained pink from the new red shirts we put on over them and then got wet. Oh, and they were our relay for life shirts, which we had to raise $100 in donations to get.
The way the race worked, you would get a text saying the next challenge is at [this location] at [this address]. You'd then start heading there and you'd get a question. Most of the questions involved finding a detail on the outside of a building or business and answering a question about it. If you were studying for a "Diamond Dash" like this, I'd say read every plaque that is on each building. We tried doing some studying the night before of art and landmarks but the questions were so detail-oriented that there's no way you'd know everything off hand. The best thing to know was the streets. My Google Maps application on my phone worked well for that.
I wish I had remembered to wear my GPS watch and put it on biking mode. It would have been cool to know how far we biked.
Anyways, I would probably do it again next year, even if I don't want the ring. I'm pretty convinced that you couldn't win that race without cheating in some way. Meh.