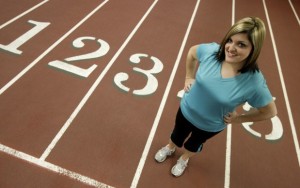 I was featured in the "Health" section of the local newspaper, the Herald & Review. The article featured my Running for Relay fundraiser! And it is NEVER too late to donate or become a sponsor of my running to raise money for Relay For Life! Just contact me or donate a flat amount online!
Nicole Fucinari is running for life. The 26-year-old decided to start making some healthy lifestyle changes last spring, and now she's channeling her efforts into helping others.Fucinari started out by walking and joining Weight Watchers, but she was then inspired to join her mom, Ginny Fucinari, an avid runner.

"I just kind of kept walking until it was too easy to do three miles a day, and then I wanted to start running," Nicole Fucinari said.

She started with local 5K races, easing herself into longer distances and completing the Disney Princess Half Marathon with her mom in February. Fucinari is gearing herself up for the Christie Clinic Illinois Half Marathon in April.