It was a cold and rainy morning in Nelson Park but it didn't stop over 1,250 runners from braving the elements to come race in the 2011 Shoreline Classic. After 13 weeks of training with the Shoreline Squad, which had over 300 participants this year, we finally were able to cross the finish line. Many of the neon yellow-clad Shoreline Squad members broke through their personal records for the course. There's really nothing like running a race with hundreds of people in the rain!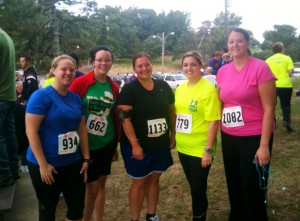 Even though I do lots of 5k races, the Shoreline Classic is always special to me. It's a big-time race for Decatur with a huge turnout… plus you get an awesome medal just for finishing! But what really makes this race special to me is the Shoreline Squad. For 13 weeks, the Shoreline Squad struggles through extreme heat and sometimes rain and cold. We battle hills and dodge duck poop obstacles on the sidewalk… and maybe dodge the WAND cameras. We struggle through the miles together through the whole summer and crossing the finish line with a stellar time is what makes it all worth it. I was so proud to be a squad leader this year and see my squad finish that race.
I set a new 5k PR for myself at this race – 38:30!
Shoreline Classic Race Results
Check out a video recap of the race from WAND: