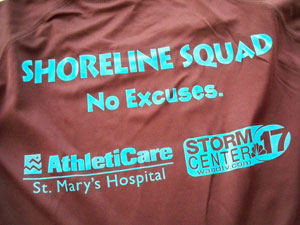 Wednesday night at Shoreline Squad we ran 3 miles! I've never run 3 miles just to train, that's a whole race day for me. It was pretty tough to do after already being up and at work all day. We ran the same course we did for the Firecracker 4 Mile on the 4th of July. I think I had a much easier time running it this time – it's a very hilly route.
I'm really getting into the routine of counting my Weight Watchers points again and sticking to my 1/2 Marathon Training Schedule.  I'm not paying for Weight Watchers online anymore since I found it a bit of a pain to have to log into their slow online interface and log my stuff. Plus I really don't like how vague their activity points tracker can be. I bought a little 4″ x 3″ composition book to write down my daily points, activity, and any other notes & feelings for the day. I like having a little notebook on me at all times :) Hey whatever works, right?
On tonight's training schedule is cross-training. I'm a bit at a loss as to what to do for cross-training. I don't like to ride bikes. I could go swimming but 1) it sounds boring and 2) it requires a gym membership, which I have but any friends I'd like to cross-train with don't. So I'd have to go it alone. My mom suggested doing the wii fit, so I may try that tonight. I'll probably also go to the Y with Chris and lift weights.
Anyway, if you have any good cross-training activities that don't involve my feet leaving the ground (such as biking, heights scare me), please comment below!