Macon County, Illinois has the highest obesity rate of every county in Illinois. On Saturday, August 6, 2011, the Obesity Prevention Coalition held the 1st fun run/walk to raise awareness about the obesity problem in Macon County.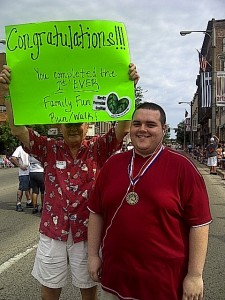 I participated in this "race" with my mom, fiance, and friend. The event took place along the parade route of the Decatur Celebration's Razzle Dazzle Good Times parade.
I have ran in front of parade watchers before at the Run to LSB in March, though it seemed like there were many more people at this one. It's always a little strange to run down what are normally high-traffic roads downtown. Plus the various food carts and the smell of fresh donuts are really hard to run through!
The race was marketed as a 1-mile race, though as I hit the half mile mark, I noticed the makeshift finish line ahead, which was just a few dozen people cheering us on. So the race ended up being just .58 miles but I did it at a 10:10 mile pace (woo hoo, FAST for me!) and we got finisher's medals!
The weather outside was so perfect for a run. It was one of the first times I have not run in 100+ degree heat this summer. I wonder how long I could keep up a 10:10 mile pace? Wouldn't that be exciting? haha.
Overall, it was a really fun little "race". I hope there were people who didn't think they could do a whole mile and were surprised when they finished one. I'm looking forward to more events from the Obesity Prevention Coalition, our community definitely needs their help!