It was cold and it was windy, but everyone still had a great time at the first annual Hercules Challenge 5k & 1 mile walk at Fletcher Park in Mt. Zion, Illinois.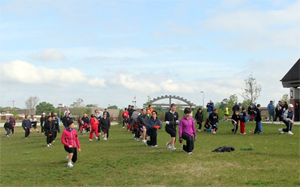 For a smaller event of just 107 5k finishers, this race had many great perks that one might expect from larger events. Pre-registered participants received very nice dri-fit t-shirts with their race entry. Each finisher took home a special clay-fired finisher's medal from Next of Kiln that could be personalized with your name, the date, and your finish time. The race festivities also included a DJ, face painting, a warm-up led by The Back Institute, an awards ceremony, and professional photographers from MTZ Photo throughout the race course.


See the 5k results here. (PDF)
I was especially excited to do this race since I am getting married at Fletcher Park in September! The course had more hills than I had expected. The race started on Henderson St., near the entrance to the park and extended south on country roads, out and back to the finish.
The only thing I was a little disappointed in about this race was the age group awards. The age groups were extremely broad and inconsistent ranges (M/F 8-10, 11-15, 16-20, 21-39, 40-50, 51+). Plus awards were only given to the top finisher in each category.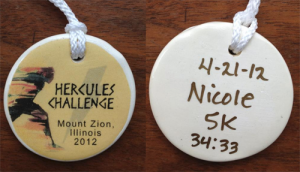 My goal for this race was to beat my 5k PR for a third time in a row this year — and I did! I beat last week's 5k time by 2 minutes, 2 seconds, coming in at 34:33! I felt like I walked a lot but I still ran the first mile in 10:14, which was a personal best for a 1 mile in itself. I still have lots of room for improvement, I just need to work on running longer and walking less.
So that is my last 5k before the Indy 500 Mini Marathon (half marathon) on May 5! It will be my third half marathon and my only goal is to just beat my last time of 3:03. I'd be happy to come in under 3 hours for the first time and my ultimate goal is to finish in 2:45. It would be nice if I could keep up the average pace that I did for this 5k… I could finish in 2:26! No chance of me being able to keep that pace for 13 miles though. But maybe 2:45 is within reach…