As winter is approaching, the weather is getting cold and the daylight hours are few. When I told people I was excited to do a night race in a cemetery the weekend before Halloween, no one really thought that sounded like a good idea. But, on Friday night, October 26, I ran a fourth of a marathon in the Screaming Pumpkin Marathon Relay.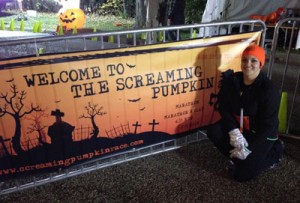 If you have not heard of Peoria, Illinois' Screaming Pumpkin race, this race is not like other races. Teams or individuals can start any time after 6pm and the winner of the race is not necessarily the one who crosses the line first. The winner is the finisher who finishes closest to midnight without going over!
Runners are not allowed to have any electronic devices or watches on the course, although this was not really enforced in any way.
While runners are waiting in Glen Oak Park for their teammates to make their way through the 6.55 mile loop of the course, they can enjoy a live band in heated tents, gather around a fire, or even just hang out in their heated cars!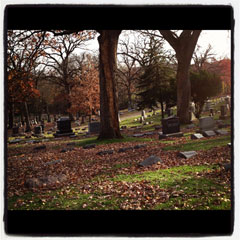 My team of four runners had predicted that we should start at around 6:30 in order to finish before midnight. However, packet pickup was very disorganized and it took us over an hour to get our bib numbers and get out on the course. Runner #4 had to be on the course before 11:20pm so because of the packet pickup delay, we were really stressed that we weren't all going to get to run. So we switched the order of our runners from fastest to slowest and hoped for the best!
I was the third runner on the course from our team and I started at about 10pm. I had just completed a half marathon 5 days prior and between my tired muscles and the course's steep hills, I didn't know how slow I would be.
As I ran deeper into Springdale Cemetery, it started to hit me… oh my gosh, this is scary… I'm in a cemetery! Not only was I running at 10-something at night in a huge cemetery, but because everyone had started at different times, I was running alone. My mind was playing tricks on me and I kept seeing things out of the corner of my eye. I had to remind myself that this what Halloween is all about and that was why I was there. I am not a "go to haunted houses" type person.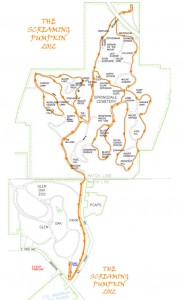 It was pitch dark out on the course with only a soft green glow from glow sticks in bags to let you know that you were still on a designated part of the course. There were no mile markers and no way of telling the time, so being in an unfamiliar location was becoming quite disorienting.
The course requires you to run into the cemetery, do about 3 loops, and then run back. Well, I probably should have studied the course a little before I started. I never felt like I was going the wrong way or was lost but somehow I ended up only doing about 5 miles and finishing early. As I was headed back to the finish line, I knew I had skipped a part of the course somewhere but between being cold, tired, and scared, I was just ready to be done! Besides, this would give our fourth runner enough time to be able to run her leg of the course before the cutoff time!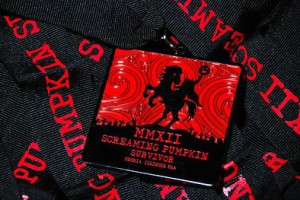 I finally crossed the finish line after about 1 hour of running (it really seemed like longer!) and received my finisher's medal. The finisher's medals were very high-quality! They remind me of a medal you would get at a big-time half marathon. Although, I can't believe there was no post-race food. No bananas, no cookies, no gatorade… just bottled water. There was some food available for purchase, but really, did all of my $50-something go towards my medal?
So, overall, this was a FUN race and I think I would do it again having learned some lessons from 2012:
get there EARLY
bring your own food & drinks
order a size or two bigger if getting women's cut shirts
have a buddy to run with
bring a *bright* flashlight
dress in layers and bring blankets
wear a GPS watch anyway!