The rain, humidity and heat proved to be the biggest challenge at the Fargo Marathon "Go Far" Challenge on the weekend of May 17-18, 2013. This was the first multi-race challenge I have ever attempted, doing the 5k Friday night and the half marathon on Saturday morning.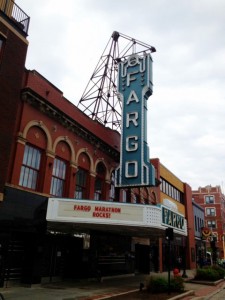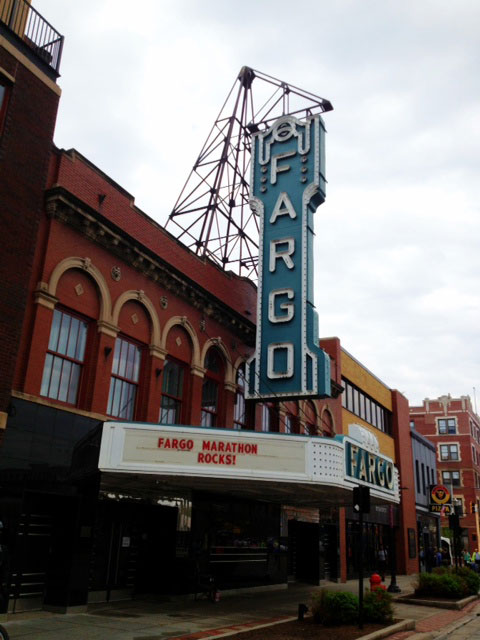 Thus far, I have spaced my half marathons throughout the year. I usually do about 2 per year, one in the spring and one in the fall. However, this year it just happened to work out that I really wanted to do two that were just 3 weeks apart.
In between the two half marathons, I made sure to do lots of yoga and stretching, and made sure to not take it easy for too long. I got out there on Monday and started walking and doing light run/walk intervals nearly every day and even a couple times a day on the really nice days. We're finally starting to get some great running weather and sometimes I can't turn down a chance for a run! So besides some hip flexor problems, I felt pretty good and ready for this half marathon!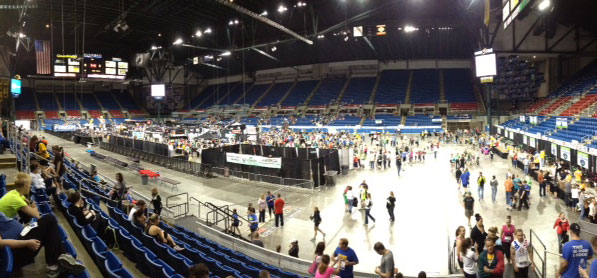 Before the Friday night 5k, we stopped by the race expo and picked up our packets.  The expo was larger than I thought it would be. Because we went just before the 5k, the place was chaotic and packed full of people! I did a power sweep of the expo and picked up the couple things that I wanted. Now that I'm on my 6th half marathon, I pretty much know what I want to get and know to ignore the rest of the usual stuff that is always at the expos.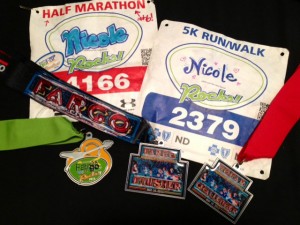 The Fargo Marathon prides itself on great swag and they did not disappoint! The packets came in very nice quality Fargo Marathon Adidas bags. The 5k received cotton t-shirts and the half marathon participants received long-sleeved tech shirts.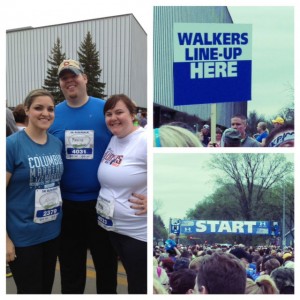 I stayed with a couple friends, who were also doing the challenge races. We had decided to do the Friday night 5k solely for the extra medals. So in order to not tire our bodies before the big race, we walked at a pretty leisurely pace for the 3.1 miles. It took us about 1 hour to do the 5k, but I'm not really sure of what our actual finish time was. Apparently, even though the race was chip-timed, they had not gotten the start mats down before the 5k walk. Good thing we didn't care about our time for the 5k, but I'm sure many people did. A really interesting thing we learned about the start and finish mats was that the same ones were used at the Boston Marathon this year, and you could still see some orange paint on them that was used to mark the crime scene!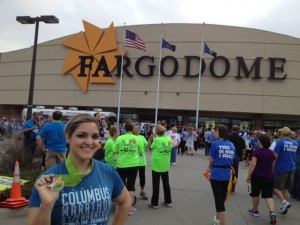 The 5k ended just outside the Fargodome, where a big screen was set up near the finish line so you could see yourself come to the end. I did think that the finish line was pretty anti-climactic because I didn't even realize we had finished when we saw the volunteers handing out medals! In the end, there were 7,598 finishers in the 5k (and it took a really long time to get out of the parking lot).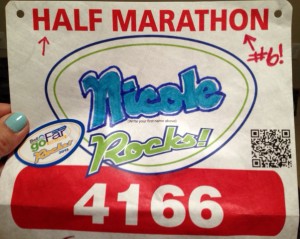 Through the night, thunderstorms hit Fargo and the rain continued into the morning. Many runners took shelter in the Fargodome, near the indoor finish line, until it was time to line up for the start. This was the first time I participated in a half marathon without pace-divided corral assignments, so it was kind of crazy at the start as the 5,500+ participants all started at once. It lightly rained for the first 30-45 minutes of the race, then quickly turned to humidity, then heat and humidity. I was soaked! I was ringing out my hair as if I had just stepped out of a pool. I don't know that I have ever sweat so much during a race! Welcome to summer running I guess!
Possibly because I have raced 18 miles in the last 3 weeks, not including our 5k walk, or because of the heat, I started feeling tired at about mile 2! I thought to myself, "this is going to be a very long race". The last couple half marathons I have also experienced some calf cramping and in this half marathon, it started at around the mile 3 mark. I decided not to run through the pain like I usually do, and immediately switched to shorter intervals of running and walking to keep my muscles at bay. I toyed around with a couple of different run/walk interval times but eventually settled on about 1 minute walk/1:30 run after 1 minute walk/4 minutes run started to become too tiring. At mile 10, my legs were not feeling too bad and I was able to maintain my intervals for the entire race. With just a 5k left, I thought I might actually get to PR this race!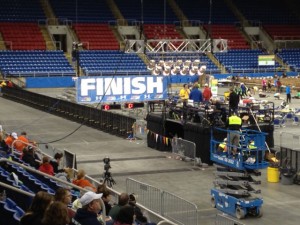 The finish line was located in the Fargodome, a large indoor stadium on the campus of North Dakota State University. The last half mile of the race circled in front of the building, ran into the parking lot area, then downhill into the entrance of the main floor of the Fargodome. Running to the finish line was really awesome, as they were announcing the names of runners coming in, your image was up on the 4 large screens in every corner of the arena, and the stadium seats were packed with cheering spectators!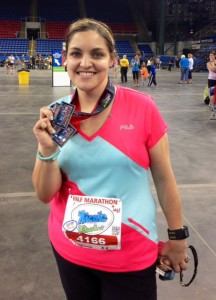 In the end, I finished just 56 seconds over my current half marathon PR (Columbus, OH, Oct. 2012)! With such an insanely flat course, I know I could have set a new record for myself if that heat and humidity hadn't been there. This was the first race of 2013 that has not been freezing cold! Overall, I was very proud of myself for not only doing a half marathon just 3 weeks after my last one, but I came in at 5 minutes under that half marathon as well, at 2:55:47.
Well, because I am crazy, this half marathon challenge of mine is not over. In 3 weeks from today, I will be doing ANOTHER half marathon in Chicago, IL! Yes, I'm finally going to cover my own home state in my 50 states challenge. I have a feeling that I'll end up doing many in Illinois if they are convenient to do.
It's kind of funny that before this year, I had done 4 half marathons, and this year alone I am already registered for another 4 half marathons! I do think I am getting more used to covering that distance, but it is still a huge physical challenge for me and each race is still a BIG DEAL to me. I look forward to traveling to all of them and I hope that as I complete more, I continue to look forward to each one and that each are as special as the last.