My year of half marathons has officially started! On April 26, my friends and I traveled down to Louisville, Kentucky to participate in my fifth half marathon, the Kentucky Derby Mini Marathon.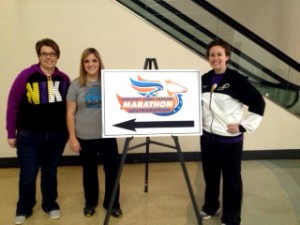 We arrived to Louisville around noon on Friday excited to get to the expo, because running and shopping really are the two greatest things. The expo was held in the Kentucky International Convention Center. We received our packets and short-sleeved tech shirts. I was very excited that the women's cut shirt actually fit me this time, no thanks to you, Columbus.
The expo wasn't very big compared to others I have been to but they had the booths I wanted, so it worked out. I wished they had more representation from other half marathons around the country, as I like to look at them.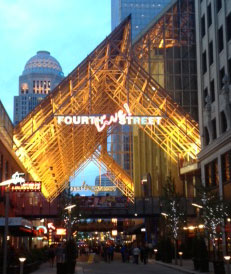 Afterwards, we ate lunch in the Fourth Street Live area, which seemed to be the hotspot of activity in Louisville, since we didn't find much else to do while we were there.
Since I didn't train much for my last half marathon, I didn't train much for this one either. I trained for about a month and a half until I went on a cruise in February. I am always encountering IT band problems and after spending a week in flip flops, I had to rest it a lot to get it back to running condition in time for this half marathon. But the last half I didn't train for got me a PR, so I figured I would be ok by just keeping my activity level pretty constant. I just skipped the long runs.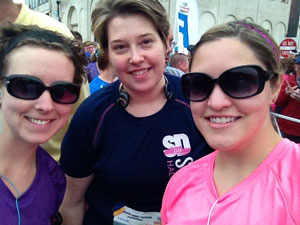 Race day weather turned out to be pretty great. All week, there had been rain in the forecast, even up to a 70% chance the night before, and then magically it was at 0% chance of rain for race morning!
All corrals were released at the same time, with only an official "start" for the first corral. The race was chip timed and runner tracking recorded split times at the 10k mark only. I did pretty well working on my new goal of running more, walking less. I ran the first 5 miles or so, only walking through the water stops. By the time we got to mile 8, at Churchill Downs, I was starting to slow down and realized that a PR for this race was probably not going to happen as the 5:45 marathon pace group passed me up. I knew I had to stay ahead of them to PR.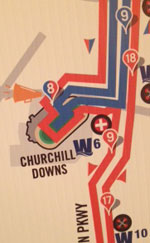 Mile 8 was the highlight of the race, running through Churchill Downs, and the point where we basically turn around and start heading back to downtown Louisville. I guess it's fun to say I ran through Churchill Downs, but I was kind of disappointed by the experience. I don't know much about horse racing and I couldn't even tell where we were on the grounds. You could go off the race course and down a small path if you wanted to see the iconic Churchill Downs twin spires, but I didn't. I guess I need to start doing more research on the locations of my big half marathons. I didn't know anything about the Yard of Bricks when I ran across them in Indianapolis and I never watched the Kentucky Derby before I ran through Churchill Downs. I'm actually typing this while in Fargo, ND before my half in the city tomorrow morning. I feel like I should have at least watched the movie, Fargo, before I came! I checked on Netflix on demand… no go.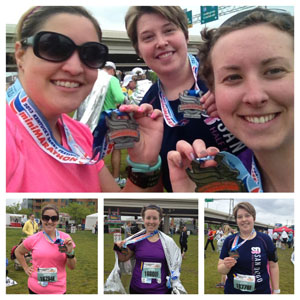 The course itself was very flat with plenty of water/Powerade stops but no GU stations, which I thought was strange. I really didn't like how the last block and finish line was around a corner, so the whole time you knew you were getting close, you still didn't have a visual of the finish line for that extra boost of motivation.
The last 3 miles were pretty painful for me. My calves began to cramp up, then that tightness traveled to my hamstrings and into my hips. I felt like the tin man every time I tried to run. My legs just didn't want to cooperate. I finally finished with a time of 3 hours even. It wasn't my best time and wasn't my worst time.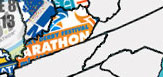 Louisville is another state in the books! With the completion of this race, I have done 5 states in my 50 states half marathon challenge. I have already registered for 3 more this year — Fargo (May 18), Chicago (June 8), and Erie, PA (August 17). I've never done this many half marathons in one year, let alone just 3 weeks in between them! I guess we'll find out how it goes!