October 9, 2021 Start location: Historic Downtown Springfield, IL City/State: Springfield, IL
Start time: 10:00 am Distances & Categories:
---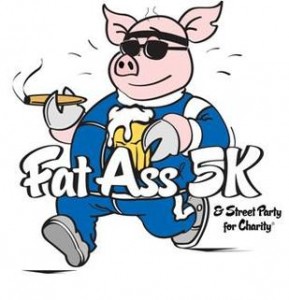 Online Registration
Only 1/10 mile if you take the signature "Fat Ass Detour" straight to the Celtic Mist Pub!
13th Annual running of the World Famous Fat Ass 5K & Street Party for Charity that includes food, beer, and entertainment along the race route followed by a rollicking street party with a Hog Roast, Coors Beer, Pepsi, and the amazing band Captain Geech! (Registration required)
Be sure to join us on the Friday before the 5k for our Fat Ass Craft Beer and Cigar Festival sponsored by Security Bank, featuring food trucks, 3 great bands and a truly disturbing Hog Wing eating contest. (Admission free. Cash bar)
All profits go to charity. (1.5 million donated to date).
For more information, visit www.fatass5k.com
See more races in:
1 Mile 5K 10K Half Marathon Marathon Relay Mud & Obstacle Runs Night Races Races for Kids Trail
---
Disclaimer
Notice: Fat at the Finish is a free race listing website serving the Central Illinois area. We are not the organizers or race directors of ANY event. Any questions or concerns regarding the races listed on this website should be directed towards the organizers of the race, of which the contact information can be found at the race's official website or contact information may be listed on this website.
Fat at the Finish Central Illinois races information is subject to change. Please verify all race dates, times, locations, prices, etc. with the official race website, flier or race director. If you would like to promote a central Illinois race on this website, please Submit a Race or email nicole@fatatthefinish.com.
Fat at the Finish uses Google Ads and Affiliate Links from Active.com. Visit Google's Privacy & Terms and Active.com's Privacy Rights to see how these sites use your information.
---