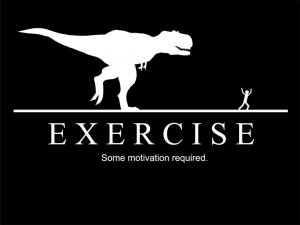 Sure, learning how to eat right can be hard. Exercising can be harder. What have I found to be the hardest thing about slimming down and staying there? Motivation.
In the beginning it's fun! A new way of life, new foods to try, multiple pounds lost every week! But it seems to be my dieting trend that at about 3 months in, I start to lose maybe 1 lb a week, sometimes none.  You start to not notice the changes in yourself and that's when I lose my motivation.
So I've been on a search to find my motivational tool… that's why I started this blog. I love to blog. I think everyone's motivation can be found in different places. Here's some different tools that hopefully will help you stay on track… this list will probably be updated a lot.
Excel & Daily Planners
http://www.starling-fitness.com/archives/2007/06/15/weight-watcher-form/
Here's a form for tracking daily Weight Watchers Points made in Excel that fits in a daily planner.
Excel Calculator
http://www.instructables.com/community/Weight-Watchers-Points-Tracker/
This excel form will total your points or calories and keep track of them. Good for if you want the online tool experience without paying for it.
Online Points Calculator
http://www.calculatorcat.com/free_calculators/weight_watchers_calculator.phtml
This is great! Just like the Calculator tool on Weight Watchers Online, only FREE!
Points Calculator
Google Shopping (or eBay or Amazon)
If you don't have one of these, I strongly suggest getting one! They're great to go grocery shopping with.
HanDBase 1.0 (for PDAs, iPad, etc.)
http://handheld.softpedia.com/get/Health/Nutrition/Weight-Watchers-Daily-Points-Tracker-for-HanDBase-30830.shtml
Enables you to simply track the food you are eating using the Weight Watchers points method. The program has a full database of food with the WW points. You create a date record and then enter the foods for that day. The program adds up the points throughout the day. You can use the running total to plan what you will eat during the rest of the day. (I don't know if this works but it sounds cool!)
Know of a better tool than these? We're looking for cheap or free, here. Please comment with a link to the tool – either exercise or dieting.