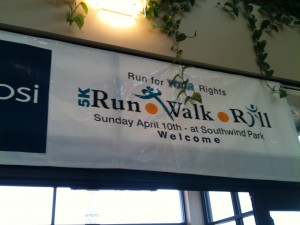 Miles for 4/10/11: 3 Miles
Total Miles: 44 Miles
Day 2 of the "two 5K weekend". Realizing that maybe two 5Ks in two days (with yardwork in between) wasn't the best idea.
Wind speeds of 20+ mph. 86 degree weather. Sore muscles. I decided that I wasn't going to worry about my time today. I'd just be out there to get some exercise and support the race.
The Run, Walk, Roll 5K for victim's rights was at the new Southwind Park in Springfield, IL. It was a very beautiful park. I'd like to do more races there. The race was free and included a t-shirt, bag, and finisher's medal, bringing my medal count to five! Maybe some people think finisher's medals are stupid, but for slow runners like me, it makes me feel like I have something to show for finishing another race.
The next race at Southwind Park is the Shamrock Shuffle, on April 16, 2011.