Here is a 2009 article from our local newspaper about my mom and her friend, Marsha's story of their struggle with obesity, their journey through gastric bypass surgery, and then becoming runners. My mom has definitely been an inspiration to me on my own journey through running & weight loss.
When Marsha Cuttill-Price and Ginny Fucinari met at church 21 years ago, the two women bonded over the shared experience of being pregnant.
"We were both fairly large women, pregnant," said Cuttill-Price, 47.
"She saw my fat maternity clothes and wanted them," said Fucinari, 53, with a laugh.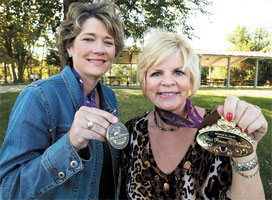 From that time on, the two have been best friends, seeing each other through a lot – including many quests to get to a healthy weight along the way. The two women had tried liquid diets, WeightWatchers, online programs and Slim-Fast, all without success.
At their heaviest, Cuttill-Price and Fucinari weighed 301 and 264 pounds, respectively. In 2002, Fucinari announced she would be going under the knife for gastric bypass surgery, an extreme effort to lose the weight. Cuttill-Price at first was reluctant, but 10 days after Fucinari's decision, she decided to give the surgery a shot as well.
"It was sort of like, you're not getting skinny without me," she said.
The women had their surgery in early 2003 at Illinois Bariatric Center at Dr. John Warner Hospital in Clinton. The results were undeniable. The weight started to disappear from their frames.
As the extreme weight loss tapered off, both women started living a bit more normally, keeping up with the surgery's diet restrictions but increasing the amount of food they ate. They noticed their weight starting to creep higher.
Fucinari had gained 10 pounds, and Cuttill-Price had put on 15.
"I realized if I could gain 10 pounds, I could probably gain 50 pounds," Fucinari said.
Both women said they have seen people go through the dramatic changes of bariatric surgery only to sabotage their own efforts through overeating and eating the wrong foods.
Gastric bypass surgery is definitely not an easy way out or a quick fix, Cuttill-Price said.
"It's like anything else: It's a tool."
The women decided they would need to do something extra to maintain their weight loss, and that's when Fucinari discovered running. She had walked for exercise in the past, but because of her size, strenuous physical activity had been something out of her grasp.
Fucinari remembered a family trip to Paris when she couldn't climb the 280 steps to the top of the Arc de Triomphe without struggling.
"By the time I got up to the top, I was just totally drenched in sweat, my heart was racing, I was so out of breath, and my kids looked at me like, 'Are you going to be all right?' "
After Fucinari's surgery and weight loss, niece Jascia Redwine suggested that she take up running; so she gave it her best effort.
"I was surprised that I could actually run at all," she said.
Soon, she was up to 5K runs, entering them all over the place – a kind of addiction, she said. Fucinari sought to pass on her newfound passion to her friend.
"I couldn't run to my mailbox," Cuttill-Price said.
But Cuttill-Price, who lost her husband four years ago, decided that running would be a good way to keep up with her new husband, Kent Price, who is a runner. She started hitting the pavement with him.
"I was running with my husband, and I ran a mile," she said. "And I felt like Rocky at the end."
After the 5Ks, Fucinari took on 10Ks. And then she took on her first half marathon. In March, Fucinari ran the Disney Princess Half Marathon at Walt Disney World. In April, she completed the half in the Illinois Marathon.
Cuttill-Price completed her first half marathon several weekends ago: the U.S. Air Force Marathon in Dayton, Ohio. Fucinari recently took on the half at the Quad Cities Marathon in Moline.
Both women run using prescribed intervals of running and walking. Cuttill-Price runs for 3 minutes, then walks for 2, and Fucinari does 2 minute runs with 1 minute walks in between.
"I think that the running world is starting more to embrace people that are more in this for their physical fitness and older people," she said.
Having the courage to begin a running regimen and keeping the discipline to stick with it have opened up many other activities for the friends, such as hiking, biking and triathlons.
"I'm probably in the best shape I've been in my whole life," said Cuttill-Price, who currently weighs 170 pounds, almost half of her heaviest weight.
Fucinari, who weighs in at 146, said all it takes is just one step to begin running. Both women have recommended the activity to other people in their lives, and they've set their sights on longer and tougher races.
"I wish I'd valued it when I was younger," Cuttill-Price said of physical activity. "I never thought I'd be at this point in my life and this would be valuable to me."
———————