On Saturday, May 5, 2012, I ran the OneAmerica 500 Festival Mini Marathon half marathon in Indianapolis, Indiana with 35,000 other runners.
I was most impressed with the starting corrals. They were lettered A-Z and seemed to span on forever! My friends & I were in letter U, so we were able to get a good idea of how many people were really there! We didn't start running until about 30 minutes after the gun time. I thought it was going to take even longer than that to get started, so at least they got us all out on the course pretty fast.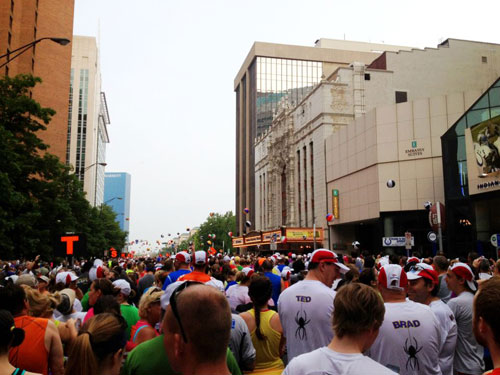 The main highlight of the course was running around the 2.5 mile Indy 500 track and crossing the Yard of Bricks at the start/finish line of the track. I'm not a NASCAR fan, so it probably didn't mean as much to me as it would have otherwise. It was cool to run somewhere that most people don't get the chance to even step foot.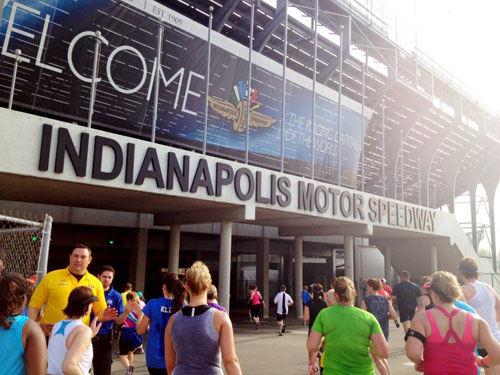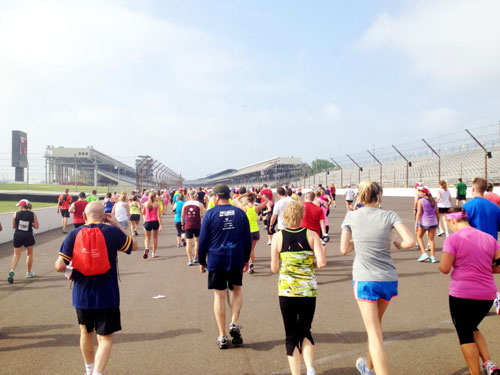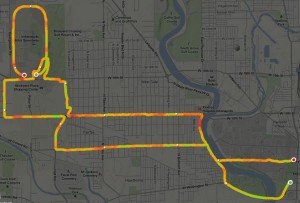 The course was well-organized with lots of water stops. It seemed like there were a lot of volunteers working hard to get us all water. I was a little surprised that there wasn't GU on the course, since there usually is in a half marathon.
Other than the track, there didn't seem to be much else that was very interesting along the course. Not many turns and really no hills, so that was nice. I would have liked to wind through the downtown city streets a bit more, but it seemed like the goal of the race was to get everyone out to the track, around it, and back.
I had multiple levels of goals for my third half marathon, ranging in levels of "easily attainable" to "maybe attainable".
Easily attainable: Beat my last half marathon time of 3:03/Get under 3 hours.
Maybe attainable: Beat my mom's best half marathon time of 2:53/Get 2:45.
I didn't reach any of my goals.
I've been dealing with left leg IT band issues since November, and while the pain has been manageable or non-existent in my training runs, it decided to join me during the race just after mile 1 during the half marathon.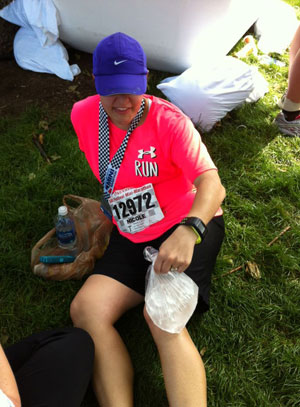 The first few miles, I was on track to finish in 2:46. Without injury, I really think I could have finished in 2:50-something. I guess I'll never know.
I did what I could, but by around mile 9, the pain was too much to do any amount of running. I decided that if I was going to finish, I would be walking the rest.
To make it worse, my GPS watch died just after mile 8. Ugh. I'm blind without my watch!
The weather on Saturday didn't help either. Temperatures were in 70's and the humidity got as high as 97%!
After walking the last 4 miles of the race, trying not to cry because I was so mad at myself and my situation, not knowing what time I would come in at, I finally crossed the finish line (without collapsing). The only way to see what my chip time ended up at was to pull up my Facebook on my phone and look at what time had auto-posted. Time: 3:03. Tied with my last half marathon (St. Louis Rock n Roll, October 2011). How did I tie?? I figured I would be far past 3:30. I still can't believe I tied it… or finished it.
I hobbled through the exit, got my picture taken, and headed straight to the medical tent for ice. I layed on the grass and put ice on my leg and just hoped that someone in my family would find me laying on the grass.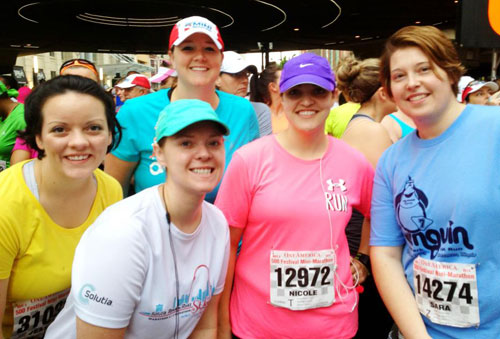 It really wasn't all bad though! The best part was that I got to run the race with lots of family and friends! I had four friends running the race with me and my cousin too. My mom also came and did the 5k race. It was three of my friends first half marathon, so it was very exciting to see them at the start, throughout the race, and finally at the finish! I was really proud of everyone for doing the race and finishing it!
I just have to remember that not everyone would attempt a half marathon, let alone three of them. And many wouldn't finish if they did… especially injured. Despite everything, I am glad I finished and will try not to let it discourage me.
My next half marathon is Columbus, Ohio on October 21, 2012. I hope to meet all my goals and more with that one. ;)