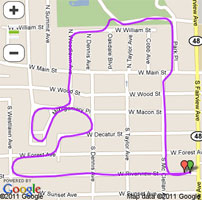 Miles for 3/30/11: 3 Miles
Total Miles: 38 Miles
I feel like I'm starting to rack up miles faster now. I was starting to feel like my goal of 300-400 miles was looking really impossible. It still might be, but winter weather through all of March plus a nasty cold really set me back.
So as a follow-up to  yesterday's post, yesterday I ran my first 3.1 mile route that I mapped out for myself through my neighborhood last spring. I knew this route was exactly 3.1 miles and I wanted to test the accuracy of the Adidas MiCoach app versus my GPS watch. When I hit mile 1, I already knew the answer, as the MiCoach app was .2 miles behind the GPS watch. So in the end, my GPS watch logged 3.1 miles while the MiCoach app only logged 2.83 miles. I'm going to have to take the word of my GPS watch over the app, because, well, the app was free and the GPS watch was not.

However, I really like the route mapping feature of the MiCoach app and the elevation stats (shown above) are kind of neat. I don't really have a way of testing the elevation data, but it claimed that at my run in Amanda's neighborhood, I ascended 92 feet but in my neighborhood (way more hills!) I acended 177 feet! I had forgotten how hilly my neighborhood can be. That slowed me down a lot.