On Saturday, April 13, 2013, the second annual American Heart Association 5k run and 1 mile walk was held at Nelson Park in Decatur, IL. The 5k was the second race of the Decatur Grand Slam Medal series.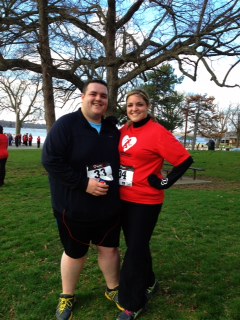 The 2013 Macon County Heart Walk committee honored Dr. G. Richard Locke, a beloved member of the Decatur medical community who passed away in 2009 of a sudden heart attack at the age of 72. Dr. Locke left a legacy of passion for the medical field through his sons, Jon, Mark, Rick and Mike, and his wife, Judy.
This is likely the last year that the Heart Association 5k will be included in the Grand Slam Medal series, as it had been planned for this fifth race in the series to be rotated every two years with other local Decatur, IL races.
The course was reversed this year, starting by heading the direction of the Shoreline Classic (towards Rte 36), looping back towards the start, then looping back again with a turnaround at the Yacht Club. So many loop backs allowed for lots of cheers and high fives from friends and fellow runners!
The majority of the course was flat, offering views of Lake Decatur at Nelson Park through the whole race. There was only one minor hill when approaching the Yacht Club.
Packet pickup was available at the Lincoln Land Credit Union on Friday, which made race day a smooth process. All participants received a red dri-fit tech shirt with the race logo on the front and awards were given to the top 3 in each age group.
View the 2013 AHA 5k Race Results.
This was the second year that I did this 5k. I love that this race celebrates and promotes healthy lifestyles and always recognizes someone who has made significant health changes in their lives at the post-race party.
I did this race with my husband, Chris, and my friend Liz. It was Liz's birthday, so we made sure she had a birthday sash to run in :) She even won first in her age group! Go Liz!
I ran the entire course with the exception of a few steps of walking up the one hill. I need to work on my hill endurance, they kill me every time.
I was glad the weather was actually sunny, although cold, this year. Last year, it absolutely poured down rain, which was terrible.