June 23, 2018 Start location: Crowder Park City/State: Bethany, IL
Start time: 8:00 am Distances & Categories:
---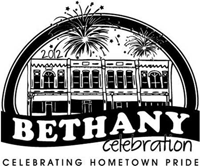 PACKET PICK UP AND RACE DAY REGISTRATION 7:00-7:45AM
The 1-mile fun run will BEGIN AT 8:00 AM, followed by the 5k at 8:30AM.
This run is held on the walking trail at the west end of Crowder Park.
The 1 mile run completes one lap of the walking trail.
The 5k run will complete three laps of the walking trail.
Post-race refreshments will be available at no charge.
1 mile run Awards:
Medals will be given to the top 3 boys and top 3 girls finishers.
5k Awards:
Medals will be awarded to the top 3 overall male and female finishers.
Please join us after the race in Crowder park for music, games, food, and fun. There will be plenty of food for sale and fun for all ages.
Bethany Celebration T-shirts are guaranteed to participants registered prior to 6:00 AM on June 1st, 2018.
See more races in:
1 Mile 5K 10K Half Marathon Marathon Relay Mud & Obstacle Runs Night Races Races for Kids Trail
---
---
Disclaimer
Notice: Fat at the Finish is a free race listing website serving the Central Illinois area. We are not the organizers or race directors of ANY event. Any questions or concerns regarding the races listed on this website should be directed towards the organizers of the race, of which the contact information can be found at the race's official website or contact information may be listed on this website.
Fat at the Finish Central Illinois races information is subject to change. Please verify all race dates, times, locations, prices, etc. with the official race website, flier or race director. If you would like to promote a central Illinois race on this website, please Submit a Race or email nicole@fatatthefinish.com.
Fat at the Finish uses Google Ads and Affiliate Links from Active.com. Visit Google's Privacy & Terms and Active.com's Privacy Rights to see how these sites use your information.
---