May 27, 2017 Start location: LLCC Main Campus City/State: Springfield, IL
Start time: 8:00 am Distance(s):
---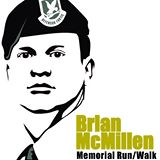 Join us for the 10th annual Brian McMillen Memorial Run/Walk Saturday May 27, 2016 at 8 a.m. at the LLCC Main Campus. Race day registration ends at 7:30 a.m. and the race begins at 8 a.m.
All the money raised from this run helps to support the Brian McMillen Veterans Scholarship, raise funds for various other charities, and keep this run going for years to come. Brian McMillen was an Illinois State Trooper, an Illinois Air National Guardsman, and a LLCC and UIS student who lost his life working in the line of duty.
Medals will be given to the top two overall in the 5K and 10K runs in male and female categories.
Medals will be awarded to the top two males and females in each age group.
A chip-timing system will be utilized to ensure accurate running times. Awards are based on the chip-timing scores.
Packet Pick-Up
May 26, 2017 – 5:00 – 7:00 PM
Scheels (3801 South MacArthur Blvd., Springfield, IL 62711)
See more races in:
1 Mile 5K 10K Half Marathon Marathon Relay Mud & Obstacle Runs Night Races Races for Kids Trail
---
Disclaimer
Notice: Fat at the Finish is a free race listing website serving the Central Illinois area. We are not the organizers or race directors of ANY event. Any questions or concerns regarding the races listed on this website should be directed towards the organizers of the race, of which the contact information can be found at the race's official website or contact information may be listed on this website.
Fat at the Finish Central Illinois races information is subject to change. Please verify all race dates, times, locations, prices, etc. with the official race website, flier or race director. If you would like to promote a central Illinois race on this website, please Submit a Race or email nicole@fatatthefinish.com.
---