July 28, 2017 Start location: Detweiller Park City/State: Peoria, IL
Start time: 7:00 pm Distance(s):
---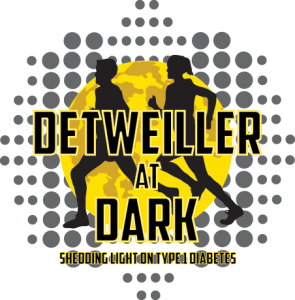 Here's your chance to run one of the fastest and most historic cross country courses in the nation…under the lights. That's right, we are going to light up Detweiller Park! Run your next PR on the grass and under the lights! This race is for everyone! No matter how fast or slow, you don't want to miss this one!
These races will be run in true cross country fashion. What this means is that this is not a typical Saturday morning local 5K race. This is all about cross country running. There will be NO water stops along the course. That doesn't mean you have to be a speed demon to participate, but we just want to let you know that this is true cross country running on one of the most historical courses in the nation. You won't want to miss it.
COST: Detweiller at Dark is:
$30 through April 30
$35 May 1 – May 31
$40 June 1 – July 11
$45 July 12 – July 27
$50 on Race Day
NO TEAM REGISTRATIONS ON RACE DAY
Shirts are not guaranteed if you register after July 20th.
PACKET PICKUP: Packet pickup will be available from 11am – 6pm on Thursday, July 27th at Running Central and from 3:00pm – 6:45pm on race day at Detweiller Park.
Participants will receive an official Detweiller at Dark shirt, custom race bib, and virtual packet.
RACE DAY:
Open Race starts at 7:00 pm – This is for all post collegiate athletes and weekend warriors! Co-Ed however, there are NO CO-ED TEAMS.
Jr. High Girls starts at 8:00 pm (Ages up to 14)
Jr. High Boys starts at 8:30 pm (Ages up to 14)
High School Girls starts at 9:00 pm (Ages 13 to 19)
High School Boys starts at 9:45 pm (Ages 13 to 19)
Graduating students have the option to run up a level or stay in the level they just completed in school. IE, a High School student who just graduated in May of 2017 can still participate in the High School Boys Race or can opt to run in the Open Race.
There are no refunds and no transfers.
AWARDS:
Top 25 Awards for each race. Top 3 Teams in each race receive Brooks Swag Bags full of cool Brooks prizes! For the open race, teams must be all men or all women to be eligible for prizes.
For more information, visit the official race website.
See more races in:
1 Mile 5K 10K Half Marathon Marathon Relay Mud & Obstacle Runs Night Races Races for Kids Trail
---
Disclaimer
Notice: Fat at the Finish is a free race listing website serving the Central Illinois area. We are not the organizers or race directors of ANY event. Any questions or concerns regarding the races listed on this website should be directed towards the organizers of the race, of which the contact information can be found at the race's official website or contact information may be listed on this website.
Fat at the Finish Central Illinois races information is subject to change. Please verify all race dates, times, locations, prices, etc. with the official race website, flier or race director. If you would like to promote a central Illinois race on this website, please Submit a Race or email nicole@fatatthefinish.com.
---