November 12, 2017 Start location: Heartland Community College City/State: Normal, IL
Start time: 1:00 pm Distances & Categories:
---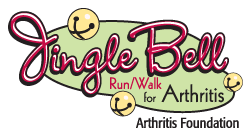 Online Registration
Celebrate 30 years of the holiday themed race benefiting the Arthritis Foundation! Wear a holiday themed costume, show off the ugly Christmas sweater, organize a team and consider this an alternative to your office Christmas Party! Complete the 5k run or walk, spread good cheer and a winning spirit…and be a Champion of Yes!
Jingle Bell Run/Walk is a fun and festive way to kick off the holidays with family, friends and coworkers. Form a team, raise funds and organize your very own holiday-themed costumes. Then tie jingle bells to your shoelaces, and complete a 5 kilometer route.
The Arthritis Foundation's Jingle Bell Run is a fun way to get out, get moving and raise funds and awareness to cure America's #1 cause of disability. In communities nationwide, this annual event brings together people from all walks of life to shout "Yes, we will live life to its fullest while searching for a cure!" As a Champion of Yes, kick off your holidays by helping conquer arthritis once and for all!
Wear a holiday-themed costume. Tie jingle bells to your shoelaces. Show off your ugly Christmas sweater. Complete a 5-kilometer run or walk with your team members, spreading smiles, good cheer and a winning spirit!
For more help or information about the 2017 Jingle Bell Run of Bloomington, contact Lucy Mardis at lmardis@arthritis.org or call 309.863.3507.
See more races in:
1 Mile 5K 10K Half Marathon Marathon Relay Mud & Obstacle Runs Night Races Races for Kids Trail
---
---
Disclaimer
Notice: Fat at the Finish is a free race listing website serving the Central Illinois area. We are not the organizers or race directors of ANY event. Any questions or concerns regarding the races listed on this website should be directed towards the organizers of the race, of which the contact information can be found at the race's official website or contact information may be listed on this website.
Fat at the Finish Central Illinois races information is subject to change. Please verify all race dates, times, locations, prices, etc. with the official race website, flier or race director. If you would like to promote a central Illinois race on this website, please Submit a Race or email nicole@fatatthefinish.com.
---