May 27, 2017 Start location: East Passavant Campus City/State: Jacksonville, IL
Start time: 7:30 am Distance(s):
---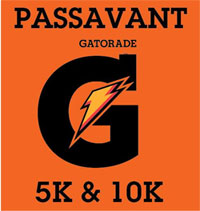 The 2017 Passavant-Gatorade 5K and 10K is Saturday, May 27, beginning at 7:30 a.m. on Founders Lane on the east side of the Passavant campus. Our race is the longest consecutively run race in Jacksonville. This year is our 25th anniversary!
Advance entry fee is $20 per person; $19 for SRRC members. Race day entry fee is $25; $24 for SRRC members. Shirts are guaranteed if pre-registered by 5 p.m., May 15, 2017. Entry fee includes a technical running shirt, post-race refreshments, and more.
Packet Pick-up:
For Springfield-area runners: Thursday, May 25, from 5:30 to 7:00 p.m. at the Springfield Running Center, 2943 West White Oaks Drive, Springfield. You may also register at pick-up.
For Jacksonville-area runners: Friday, May 26, from 11:30 a.m. to 1:00 p.m. and 5:30 to 7:00 p.m. in the Main Lobby at Passavant. You may also register at pick-up.
Race day Registration/Packet Pick-up: Begins at 6:30 a.m. at the registration tables on Founders Lane on the east side of the Passavant campus.
Both courses are USA Track and Field-certified. Runners should be prepared for a P.R. as the course is mainly flat and fast! The race begins and ends on the east side of the Passavant campus and is run through mostly residential areas on the city's west side. 5K and 10K participants run together until the 1.25 mile mark, where the 10K runners head south and then west for an out and back and the 5K runners head east to the finish line.
All race finishers will receive a Passavant-Gatorade Race 25th Anniversary commemorative medal.
For more information, please visit the official race website.
See more races in:
1 Mile 5K 10K Half Marathon Marathon Relay Mud & Obstacle Runs Night Races Races for Kids Trail
---
Disclaimer
Notice: Fat at the Finish is a free race listing website serving the Central Illinois area. We are not the organizers or race directors of ANY event. Any questions or concerns regarding the races listed on this website should be directed towards the organizers of the race, of which the contact information can be found at the race's official website or contact information may be listed on this website.
Fat at the Finish Central Illinois races information is subject to change. Please verify all race dates, times, locations, prices, etc. with the official race website, flier or race director. If you would like to promote a central Illinois race on this website, please Submit a Race or email nicole@fatatthefinish.com.
---