June 7, 2017 Start location: Fleet Feet Sports City/State: Bloomington, IL
Start time: 6:00 pm Distance(s):
---
Online Registration (required)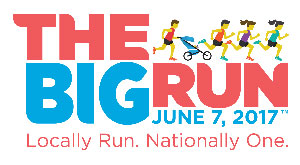 Ready to run in the biggest Fleet Feet Sports event ever? Welcome to The Big Run!
On June 7, select Fleet Feet Sports locations nationwide will hold a local 5K race. All results will funnel up into a national leaderboard to determine: who is the fastest runner in the country?
But speed isn't the only thing that counts. We want to see the whole community participate because, seriously, running together rocks. Let us recap the ways:
You get to join Fleet Feet Sports communities across the country in doing something we've never done before—a nationally-coordinated 5K race taking place in different locations all on the same day.
It's on a Wednesday—who couldn't use a mid-week pump-up?
Every finisher gets a medal. Not just any medal. A very cool, make-your-friends-jealous medal.
We know some people. And some pretty cool brands (cough, cough, Brooks). Let's just say, we're planning some fun raffle giveaways.
The Big Run coincides with Global Running Day and is open to runners of all levels and abilities.
Packet pick-up is available at Fleet Feet Sports Bloomington from 5 pm – 7 pm on Tuesday before each race
Race Start Time: 6:00 pm
Awards: No age group awards but all participants will receive a finisher's medal for each race
Race fees: Register by 5/7 and fee is $10 per race / $25 for the series. On 5/8 price increases to $15 per race / $40 for series.
Race will be chip timed by It's Race Time – runners will have a chip start and chip finish time. Thank you to It's Race Time for your generous sponsorship!
Race questions? Contact Julie Sibley at 309-808-3220 or email julie@fleetfeetbloomington.com
See more races in:
1 Mile 5K 10K Half Marathon Marathon Relay Mud & Obstacle Runs Night Races Races for Kids Trail
---
Disclaimer
Notice: Fat at the Finish is a free race listing website serving the Central Illinois area. We are not the organizers or race directors of ANY event. Any questions or concerns regarding the races listed on this website should be directed towards the organizers of the race, of which the contact information can be found at the race's official website or contact information may be listed on this website.
Fat at the Finish Central Illinois races information is subject to change. Please verify all race dates, times, locations, prices, etc. with the official race website, flier or race director. If you would like to promote a central Illinois race on this website, please Submit a Race or email nicole@fatatthefinish.com.
---