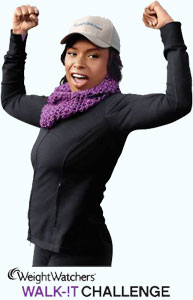 Last year, this is one of the first things I did to start exercising. I even got a custom t-shirt ;) If there's not an official 5k around you, do any local race or even just map out a 5k around your neighborhood using Google Maps.
The Weight Watchers Walk-It Challenge is on!
Team up with your family and friends to walk a 5K on
Weight Watchers Walk-It Day on May 22, 2011.
Find official Walk-It Challenge 5ks
Weight Watchers International announced the launch of its third annual Walk-It Challenge, an initiative that encourages people to incorporate physical activity, in conjunction with healthier eating habits, into their weight loss goals.  Kicking off this month, Weight Watchers members and Online subscribers will have access to an easy-to-use six-week training guide to help them get moving toward walking a 5K, while making regular physical activity a part of their lifestyle.
Weight Watchers International's commitment to promoting physical activity as part of a healthy lifestyle aligns with the recently released 2010 Dietary Guidelines for Americans.  The Guidelines advise reducing calorie consumption, focusing on nutrient dense foods, and increasing physical activity can reduce the prevalence of overweight and obesity and reduce the risk of weight-related chronic diseases.
Another component of this year's Walk-It Challenge is Weight Watchers donation of $100,000 to the Alliance for a Healthier Generation to support the organization's work to reverse the trend of childhood obesity in America and inspire young people to develop healthy habits for life. The Alliance's Healthy Schools Program supports more than 11,000 U.S. schools as they implement positive changes in physical activity, school meals, and health education to create healthier places for students to learn and staff to work.
"The Weight Watchers Walk-It Challenge adds another dimension to achieving weight loss success, and we're thrilled to offer our members and Online subscribers the training tools that will help them reach their goals," said Dave Burwick, President, Weight Watchers North America. "We are also excited to support Alliance for a Healthier Generation and strongly believe that encouraging physical activity at an early age is paramount to helping individuals lead healthy lives."
Academy Award-winning actress and Grammy Award-winning recording artist Jennifer Hudson is a strong supporter of the Walk-It Challenge, as walking was one of the first steps she took to achieve a healthier lifestyle.  "After the birth of my son, I made walking a priority in my life," said Jennifer Hudson. "I knew I wanted to establish an environment for my son that encouraged healthy eating and physical activity. Walking was such a natural and easy way for me to get active.  That's why I'm so excited to support the Weight Watchers Walk-It Challenge and encourage everyone to take the first step towards achieving their weight loss goals!"
Weight Watchers has declared May 22, 2011 "Walk-It Day," and encourages walkers to join one of over 50 official Weight Watchers Walk-It Challenge 5K walking events being hosted across the country by local member clubs of the Road Runners Club of America.  Individuals may also explore other walks taking place in their area or map a route for their own 5K. People can visit www.weightwatchers.com/walkit to learn how to participate, find a 5K event and for tools to find a walking team in their area.
To learn more about Weight Watchers Walk-It Challenge, Walk-It Day, or to find a 5K walking event close to you, visit www.weightwatchers.com/walkit.