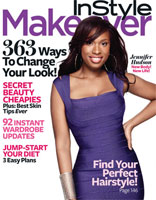 Jennifer Hudson is on the cover of InStyle Makeover magazine this month! This spokeswoman of Weight Watchers has gone from a size 16 to a size 6! Read the article here.
If you want to check out the magazine, it comes out on Friday, Aug 6, 2010.
If you are signed up for Weight Watchers online, then you have probably seen Jennifer Hudson's blog, favorite recipes, tips, etc.
It's nice to have a star speaking for a weight loss program who started speaking for it before they lost weight. Some of these other stars get on a weight loss program commercial already skinny! How are we supposed to know if they really used that program? Hmm…
Anyway, nice to have someone to look up to and follow along with.