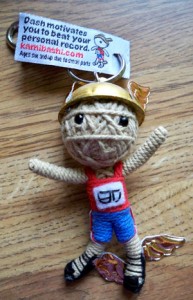 I got my handmade String Doll in the mail from Kamibashi!
I got the runner's inspiration string doll, Dash, for me and one for my mom too. It's only a couple inches tall and comes on a keychain. Perfect for putting on my gym bag or something. I just put it on my keychain for now. We'll see where Dash ends up!
I love how the little embroidered tag with his message "Dash motivates you to beat your personal record" even has a little cartoon replica of Dash!
Click on Dash's picture to enlarge.