On Saturday, March 24, 2012, the 7th annual Penguin in the Park 5k was held in Decatur's Fairview Park. For many of the 600+ participants of the race, this was the first official 5k of the year with many more to come. The Penguin is also the first race runners will complete in the new Decatur Grand Slam Medal series.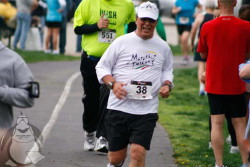 The Penguin in the Park 5k was created by runner, author, and Millikin University alum, John Bingham. Bingham (pictured at left) ran the race with all the other participants and finished at 38:42. All participants of the race received a commemorative engraved "Penguin" finisher medal.
Finishers of the 2012 Penguin in the Park can view their race results and also find themselves in the hundreds of photos taken at the event.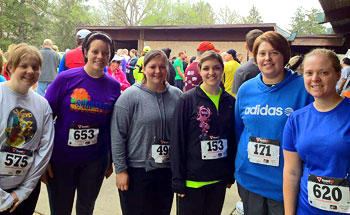 This is one of my favorite races in Decatur, along with the Shoreline Classic, because it is always well-organized and the turnout was fantastic. The best races are the ones that I know a lot of the other runners. The race course itself is quite hilly. The course has an uphill start and a few more hills along the way, which can make for a challenging race. Regardless of the hills, I have always managed to set PRs for the year during this race. Last year, my PR was set at 39:30, which I then beat during the Shoreline Classic 5k in September 2011 with 38:30. The morning of the Penguin, I looked up last year's time for this race and saw the 39:30 and thought to myself, 'there's no way I'll beat that'. I ended up finishing the race at 36:56, beating both of my 2011 PRs.
Ah, the magic of the Penguin. It is the race that sets the tone for the rest of the running season. I can't wait for the rest of 2012!