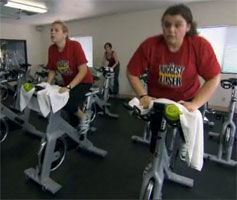 Chris and I were watching The Biggest Loser on Tuesday night and saw a couple of the girls on the show participating in a cycling class. We said to each other, we could do that…
So, conveniently, there was a cycling class starting at the DISC (Decatur Indoor Sports Center) on Thursday! So I signed us up.
I think it will be a good exercise activity for Chris and I to do together. We can work at our own pace but one won't be trying to catch up to the other.
Cycle & Core
Thursdays, 6-7 p.m.
45 minutes of cycling…15 minutes of hard "core" exercises. Each participant can customize their intensity to fit individual needs and fitness levels. Every session includes elements of strength and cardiovascular training. Increase your endurance and sculpt your muscles! 6-week sessions.
I'll let you know how it went… :)