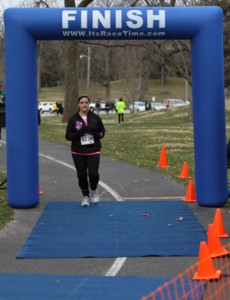 Miles for 3/26/11: 3 Miles
Total Miles: 32 Miles
Saturday was the Penguin in the Park! Not only was this my first 5K race of 2011, but it was my first time doing the Penguin.
This race was created by runner & author, John Bingham, and is run at Fairview Park. This was the 6th year of this race.
I really liked this race because for one, you get a finisher's medal (and who doesn't like to get a medal even if you didn't win?) and because John Bingham actually does the race with everyone and makes sure to finish last.
"Penguin" was actually a fitting name for the race as it was very cold outside. A couple of my family members, who shall remain nameless, did not show up to the race due to the cold. But despite chilling temperatures and winds and a couple tough hills, I set a new 5K PR, beating my 42:00 Shoreline Classic time with 39:30! That's going by my GPS watch time, which I start when I cross the start line, not when that timing chip says I do… :)
So with that time, I can't wait to see what kind of time I get on a flatter surface on a warmer day!