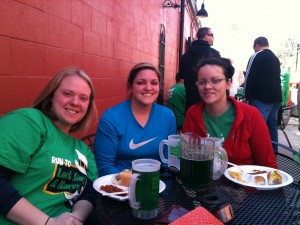 Miles for 3/12/11: 2 Miles
Total Miles: 25 Miles
Today was the Run to LSB race – a 2 mile race that ran the St. Patrick's Day parade route in Downtown, Decatur, IL and ended at the bar Lock, Stock and Barrel. My time was good, 22 minutes, but I think it was only 1.8 miles. But still, I wanted to run the 2 miles in 26 minutes or less, and I definitely would have accomplished that. It was really fun though, the race wasn't very focused on the running and was very much focused on the after-party complete with free green beer. A lot of my friends did this race with me, which always makes a race more fun!
I know I need new running shoes. My feet and ankles have been hurting in the shoes I have now. You can see my sock through the left shoe. I got them last summer and they are way past their prime. I think I'm going to get new ones next weekend for my birthday :)
Two weeks until the Penguin in the Park 5k! I'm excited for that one — you get a medal!!! I love getting finisher's medals, it makes me feel like I won :) haha