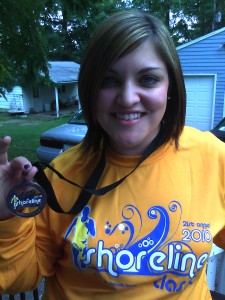 On June 22, 2010, I started the Shoreline Squad, a training program to run the Shoreline Classic 5k on September 19, 2010.  Thirteen weeks later, I ran the official race! This was my sixth race since May but I feel like I've specifically been working towards it with meeting with the Shoreline Squad every Wednesday to train for it.
My best training time was 42:51 on September 8, when we trained on the actual course route. I really wanted to beat or match my training time during the real race.
I was doing pretty good with my right shin/ankle pain. I ran the first 5 min straight then it started to get tight. I walked/ran as much as I could until my leg loosened up a bit then I started a run/walk 1min/1min pace til the end.
With the last .25 mile left, my GPS watch was nearing my 42 minute deadline. I didn't really know how long it'd take me to finish. At one point I thought maybe I'll finish before 42 minutes. Then as the time got closer and I still couldn't see the finish line, I decided to amp it up and run til I couldn't go any further. Unfortunately, that point where I couldn't go any further was right when the finish line came into view. Agh, I can't start walking with the finish line in sight! I can't walk across the finish line! So I huffed and puffed and crossed that finish line in 42:07!
I didn't have headphones on this race so I had lots of thoughts going through my mind. First of all, I found it really strange that people were out in their front yards watching us racers go by. The race was through a neighborhood. A couple people were actually sitting on the side of the road smoking! Why are smokers so damn rude? Anyway, then in my final dash to the finish all kinds of things were going through my head. Anything to keep me going and not drop from run to walk in the last few seconds. I was thinking mind over matter, mind over matter. What's the worst that could happen to me? I'm not going to start losing parts. The worst that could happen is that I just start to puke when I'm done! Kind of bad when you're thinking the worst that could happen to you is that you just start puking. :)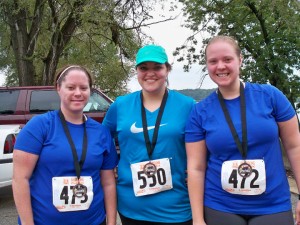 So after I finally crossed the finish line, I just had to walk. I felt drunk. I just wandered down the road a while til I felt like I could stop. It was definitely the hardest I've ever pushed myself.
I was so proud of myself that I set a time goal and met it. I needed a pick-me-up after the crappy Fido Scurry last Saturday. Amanda also beat her time from last year's Shoreline by a couple minutes (she finished about 30 sec. after me) and Renee finished 1 min faster than last year's time. We all did awesome! Oh and best part – we all got medals! My first medal!!
Saturday we have another 5k – the Besty Smith 5K at the same park as the Shoreline. The course we'll be doing for that one is less hilly, so hopefully I'll have a good time.