The University of Illinois Student Chapter of The Wildlife Society (ISCTWS) held its 2nd annual 5k Zombie Chase on November 3, 2012. I did this race last year as well (see recap & results) and I loved it so much that I went back and did it again, despite having to go alone this year.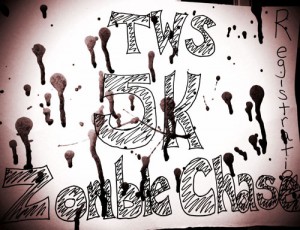 This "Walking Dead-esqe"5k course throughout the University of Illinois quad will prepare you for any zombie invasion. Runners follow a flat, 3 mile course around two loops while attempting to avoid being tagged by zombies.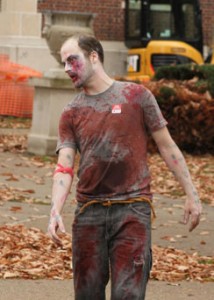 There is no penalty for being tagged by a blood-wielding zombie, but runners of the race are put into two award categories at the end – infected and uninfected.
Last year I managed to escape the bloody zombie tags, but this year I decided to change it up and get tagged. It seemed like the zombies were faster this year anyway :) I finished with a pretty good time for myself at 34:55.
Despite the freezing cold, wet weather, many participants came to run, some even dressing in costumes. This race is well-organized and unique with fun event shirts, "Zombie Survival Guide" book awards, and zombie-themed door prizes! I hope it returns in 2013!
Watch the Zombie Chase 5k website for next year's information.