Saturday, May 12th was a great day for a race! I hope you were able to make it to one of the many races that were going on in Central Illinois. Today I chose to do the Whitmore Park 5 mile, which also included a half marathon. I chose this race mainly because it was the third out of the five Decatur, Illinois races which makes runners eligible for the new Decatur Grand Slam Medal. Since I did this race, the Penguin in the Park, and the AHA Darrell Beck 5k, I only need to finish the Shoreline Classic and I'm done!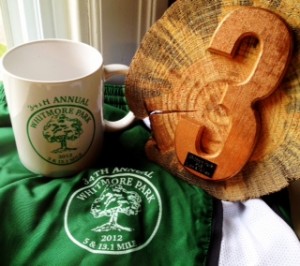 The Whitmore Park  race was a lot of fun. It was a small race but finishers received a pair of running shorts with the race logo on them, a coffee mug, and a pancake & sausage breakfast afterwards! It was also a small enough race to allow me to win third place in my age group! There were participants to represent all age groups too!
The 5 mile race began with the half marathon runners at Whitmore Park, located near the end of Garver Church Road, which is off of Brush College Road on the East end of Decatur, near Richland Community College. The race headed north/northeast up to Kirby Road and back. There were two water stops along the route with one offering Gatorade.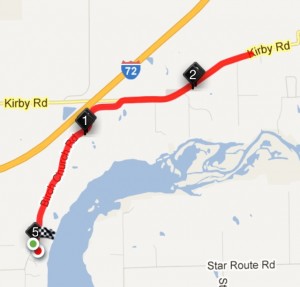 Since struggling through my most recent half marathon last weekend, I have been getting physical therapy done on my IT band every other day. It has gotten a lot better since last Saturday… I was able to walk up and down stairs, that's an improvement! I hadn't even tried running since crossing the finish line, so I didn't know how today's race was going to go. But since I am stubborn and overly determined, I decided to do the race anyway.
I tried to do intervals of slowly jogging for one minute mixed with walking fast for one minute. I did pretty well with that. It was a challenge to go so much slower than I would like. I am so competitive against my own time! By the turnaround, I was feeling pretty good, so I quit the intervals and figured I would just run until my leg totally gave out. Smart… right? :)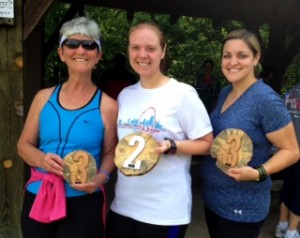 In the end, I finished in 1:07:40. I just wanted to get under the time it would have taken me to run a 10k. I don't know where that goal came from, but I always need to run with some kind of goal to keep me moving. I don't even really know how fast I could finish a 10k at this point! The other two 10ks I have done had finish times of 1:22 and 1:19.
I hope my IT band heals up soon! I was on a great PR streak with 5k races lately. Next race is the Heritage Relay for Life 5k. I'll have to see how my injury is at that point to see if I can do it!
Make sure you watch for the Whitmore Park race next  year, it will be the 35th year and it's sure to be a great one!