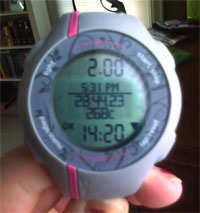 Miles for 2/16/11: 2 miles
Total miles: 2 miles
My first official run report for Running for Relay!! I feel like it's a weigh in on Biggest Loser…
I'm SO proud to say that I have had NINE people pledge & donate to Running for Relay! Woo hoo! That's very inspiring.
So, I ran 2 miles yesterday. It was really warm out (really warm for February!) but unfortunately, the sun sets at 5:30 and I leave work at 5. So I got in a half hour.
I started using the Runner's World Smart Coach app to give me some last minute, 2-weeks-left-til-the-half-marathon guidance. On deck for tomorrow is 5 miles! Might have to do it indoors at the DISC. I've been spoiled by running outside lately, now I don't want to go back to running on a track!
During my 2 miles yesterday, I just ran down to the end of my street and back. I had forgotten how hilly it is outside! Those hills killed me. I guess my calf muscles have to build back up again.
Well, like my first run, I'll keep this post short… I'm pretty sure there was a time not too long ago that I would not have considered 2 miles a short run. :)