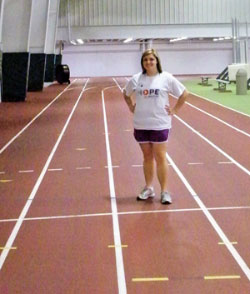 In the spring of 2010, I decided to start to change my life around and get healthy. I began to diet and walk and by May, I was doing my first 5K! Even though I only walked that first 5K, I wanted to start running. Scouring the internet for local races, I happened to come across Relay for Life of Macon County. I said, "hey, we should do this!". I didn't know what I was getting myself into. After having an amazing summer being involved with Relay for Life and heading my very first Relay team, I knew I was definitely on board for 2011!
This year I want my running to do good things for more than just myself. That is why I decided to put my running to good use by using it to raise money for Relay for Life of Macon County.
From the official kick-off of Relay for Life of Macon County 2011, February 15, and through the following 20 weeks, I will be recording my progress on this blog and I am looking for sponsors to donate a monetary amount for each mile I cover! It can be as little or as much as you want and you can jump on board at any time!
Please contact me at nicole@fatatthefinish.com if you would like to be a part of this fundraiser! I'm looking forward to the opportunity to be inspired to train, blog, and fundraise all in one!
How to Pledge a Flat Amount
How to Pledge Per Mile
Contact me at nicole@fatatthefinish.com to tell me the amount you want to pledge per mile.
You follow my progress at fatatthefinish.com from February 15 – June 2011
I run, race and train and count all the miles in between!
At the end of June, I will post the final numbers!
How Many Miles is This Going to Be?
I don't know the exact amount of miles I will be able to cover in 20 weeks, but the more people I have rooting for me, the more motivated I'll be! I'm currently planning on running quite a few races this spring/summer – click here to see the races that I am doing in 2011 – and training in between. I would give a ballpark amount in the area of 100 miles… we'll see how that goes :)
Where Does My Money Go?
Your donations will help support cancer patients and survivors in Macon County in the following ways:
Research grants and research programs
Prevention programs
Community/patient support programs
Detection and treatment programs
Management
Construction of Hope Lodges
See the Relay for Life website for more information. All donations are tax deductible.