It was a whirlwind of a weekend, as I drove 7 hours to Detroit, Michigan for the Detroit Free Press International Half Marathon!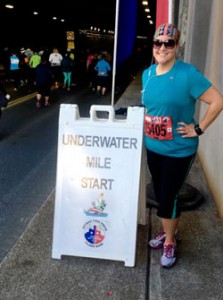 Although everyone talks about the scary crime and decay of Detroit, this turned out to be one of my favorite races. The course was so interesting and different. In the very beginning of the race, we were already traveling over the Ambassador Bridge to cross over into Canada. After what seemed like a short jog in Canada, we ventured into the "world's only underwater mile" – the tunnel back to the U.S. By the end of the tunnel, we were already at mile 9! The rest of the race flew by. Before I knew it, I was crossing the finish line.
My friends and I made the weekend extra fun by using the iMovie app to create a short video of our race experience! We had a great time looking for video clips to take. Check out the video above!