May 11th began my month of long distance races (non-5ks) with the Whitmore Park 5 Mile in eastern Decatur, Illinois.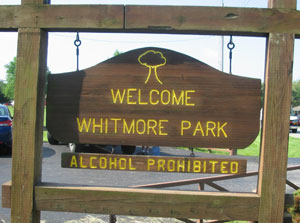 The 35th annual race consists of a 5 mile race and a half marathon. The race takes place at Whitmore Park and runs through rural roads on a flat, out-and-back course. The Whitmore race is the third in a series of five races in the 2013 Decatur Grand Slam medal, in which you must complete four of the five Decatur, IL races to receive a special medal at the end of the calendar year.
Race results will be posted on the Decatur Running Club website.
The swag for this race is refreshingly different than your typical race t-shirt, offering participants Whitmore Classic logo-branded running shorts for both men and women and logo coffee mugs. In my opinion, the circular logo is just begging to be made into a medal! My only disappointment with this race is its lack of hardware. However, age group winners (top 3) are presented with wooden plaques made from thinly cut tree circles.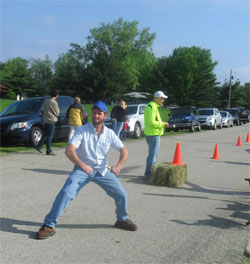 The race started at the park with the half marathoners and 5-milers beginning all at the same time. The finish is manned by an always enthusiastic race director, who cheers for every participant and hands the runners a popsicle stick at the end.
The course itself spans mostly flat rural roads but the half marathon and 5 mile course split direction is reversed every year. This year's 5 mile course ran up then down an overpass ramp which made for 2 challenging hills midway through the course. The course mileage for both races was clearly and very accurately marked with a water stop at the turn around and around mile 4.
The post race party included awards and chocolate chip pancakes made fresh on a flat top grill by great volunteers in the park pavilion.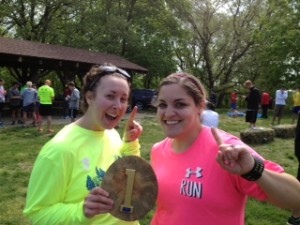 This is the second year I have done this race. Last year, I had just completed the Indianapolis Mini Marathon (half marathon) the weekend before the Whitmore and tore my left IT band. I was determined to do the race anyway, so I hobbled through most of it but somehow got a pretty decent time regardless!
My goal for 2013 is endurance, endurance, endurance! So my goals have revolved around running without walking and taking a break from caring about my times. I felt really great and did run the entire 5 miles of the race and even finished well under an hour, which I decided around mile 4 I would aim for :)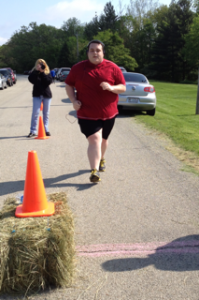 My last 2 miles ended up being my fastest miles and I felt really great. The icing on the cake to a great race would have been to place in my age group, which I did last year, but come to find out, I missed 3rd place by just 3 seconds! Agh! Maybe next year.
I ran the race with my mom, my friend, Liz, and my husband, Chris. It was Chris's longest run ever, he had only ever done 5ks up to now. I'm so proud of him for (finally) joining me in running. It's so great to be able to run with my husband and share my love of running with him, although he may not ever love it as much as I do, haha. Also, my friend Liz placed first in our age group for the second time this year! Watch out for that girl, 25-29 year olds!
Overall, a great race and one of my annual favorites! Next race for me, Fargo Half Marathon!