Race Date: September 5, 2022
Start Time: 7:30 am
Race Start Location (may be approximate):
Arthur Visitor's Center, Arthur, IL
Arthur, IL Cheese Festival presents the Labor Day Rat Race
Monday, September 5, 2022 (Labor Day)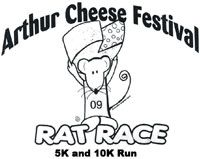 The Arthur Cheese Festival's Rat Race 5K & 10K runs are taking place again on Labor Day Monday. As in the past, proceeds from this annual race organized by the Arthur Woman's Club will be used to fund educational scholarships to graduating high school seniors. That means seniors in the new high school district, Arthur-Lovington-Atwood-Hammond, will all benefit from this race and can apply for scholarships in the spring. There will be eight $500 scholarships awarded to graduating seniors and continuing education candidates.
The 5K and 10K runs are the featured races for this day, but the Rat Race will still also consist of a 1 Mile Fun Run, the 5K Recreational Walk, and our favorite Cheese Chaser Kids Run.
The morning schedule starts with the 1 Mile Fun Run at 7:15am. 10K and 5K runners begin their race at 7:30 a.m. with the 5K Recreational Walkers following. Rounding out the schedule is the popular "Cheese Chasers" which younger children ages 4 – 8 can participate in at approximately 10:00 a.m.
More information and contact information is available at www.arthurcheesefestival.com.
More info – Arthur Cheese Festival Website