September 7, 2020 Start location: Arthur Visitor's Center City/State: Arthur, IL
Start time: 7:30 am Distances & Categories:
---
Arthur, IL Cheese Festival presents the Labor Day Rat Race
Monday, September 7, 2020 (Labor Day)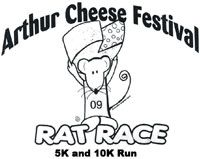 This is the best family race in central Illinois for Labor Day. There is a race for almost any age and any level of experience. There will be a 5K/10K competitive run with 14 age categories and medals to the top three female and male finishers in each age group. There is also a 5K recreational walk, a 1 Mile Fun Run and a kiddies run called the "Cheese Chasers". This race is run on smooth surfaces throughout the Village of Arthur, with the 10K runners running half their race through the countryside.
Early registration is encouraged.
There is an early packet pick-up available for any pre-registered runner on Sunday, September 3rd at The Arthur Welcome Center from 4:00-5:30 pm. Each pre-registered 5K/10K runner is guaranteed a moisture wicking t-shirt, race bag and complimentary cheese block. T-shirts are optional for walkers and 1 Milers and can be notated on the race form. The kid's race is free and optional t-shirts are available, but all children will receive a goodie bag (with cheese items) and a medal at the end of their race.
More information, a printable form, and contact information is available at www.arthurcheesefestival.com.
More info – Arthur Cheese Festival Website
See more races in:
1 Mile 5K 10K Half Marathon Marathon Relay Mud & Obstacle Runs Night Races Races for Kids Trail
---
Disclaimer
Notice: Fat at the Finish is a free race listing website serving the Central Illinois area. We are not the organizers or race directors of ANY event. Any questions or concerns regarding the races listed on this website should be directed towards the organizers of the race, of which the contact information can be found at the race's official website or contact information may be listed on this website.
Fat at the Finish Central Illinois races information is subject to change. Please verify all race dates, times, locations, prices, etc. with the official race website, flier or race director. If you would like to promote a central Illinois race on this website, please Submit a Race or email nicole@fatatthefinish.com.
Fat at the Finish uses Google Ads and Affiliate Links from Active.com. Visit Google's Privacy & Terms and Active.com's Privacy Rights to see how these sites use your information.
---