December 31, 2018 Start location: Festival of Lights Winter Wonderland City/State: East Peoria, IL
Start time: 11:50 pm Distances & Categories:
---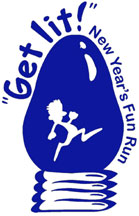 Now in its 18th year, Get Lit is a fun way to "run" in the new year! Open to men, women, and children, this event is a non-competitive run/walk through the Folepi's Winter Wonderland drive-through display. There will be no vehicular traffic in the Winter Wonderland during the run/walk. All participants must remain on the main road through the Winter Wonderland due to the numerous guide wires that hold up the lighted displays. No dogs are allowed on the course.
A post-event pizza party buffet will occur at Avanti's Ristorante, 2320 E. Washington St., East Peoria. There is a 400-person limit for the pizza party, and early registration is encouraged.
For more information, contact Jim McIntyre, (309) 253-2420.
>> Official Race Website
See more races in:
1 Mile 5K 10K Half Marathon Marathon Relay Mud & Obstacle Runs Night Races Races for Kids Trail
---
---
Disclaimer
Notice: Fat at the Finish is a free race listing website serving the Central Illinois area. We are not the organizers or race directors of ANY event. Any questions or concerns regarding the races listed on this website should be directed towards the organizers of the race, of which the contact information can be found at the race's official website or contact information may be listed on this website.
Fat at the Finish Central Illinois races information is subject to change. Please verify all race dates, times, locations, prices, etc. with the official race website, flier or race director. If you would like to promote a central Illinois race on this website, please Submit a Race or email nicole@fatatthefinish.com.
Fat at the Finish uses Google Ads and Affiliate Links from Active.com. Visit Google's Privacy & Terms and Active.com's Privacy Rights to see how these sites use your information.
---