Well, I think I'm a little crazy, but I am going to start training for the St. Louis Rock N' Roll Half Marathon that takes place on Oct. 23!
Half Marathon #2.
I signed up for the Illinois Half Marathon in Champaign, IL, which was in April, but I didn't end up going.
I am training with some friends this time, so I think it will be more fun than training by myself.  I was really scared I wouldn't finish the Disney Princess Half Marathon in time but this one's time limit is much longer. I'm pretty confident I can do this.
Since I only have 8 weeks to get my mileage up, here is the training program I found –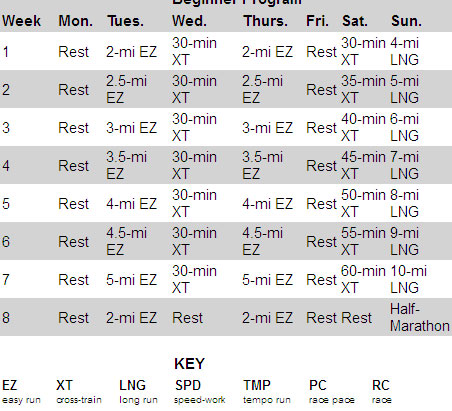 So, begin the 8 week countdown! I'll keep you all updated on my progress.
St. Louis Rock N' Roll Half Marathon finishing incentive: Mark McGrath at the finish line.  Oh yeah, free Sugar Ray concert ;)