Check one goal off the list! I have gone from a BMI index of "obese" to a BMI index of "overweight"! I'm 49 lbs down since April 2010 and 18 down for 2012.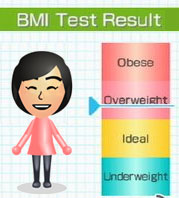 I don't know if there's much of a difference between the two categories, but at least I am seeing changes and that's what keeps me going.
I remember sometime in 2010, I was using the Wii Fit program and had it weigh me. It said I was "overweight". I was really excited because it normally said "obese". Then I realized the scale was 40 lbs off and I was far from reaching that new level. Not that you should judge your weight based off a video game… (note: photo at right is not mine)
Forty pounds later, I can finally enjoy that moment of a new level. One more pound to go and I've reached the big 50!!