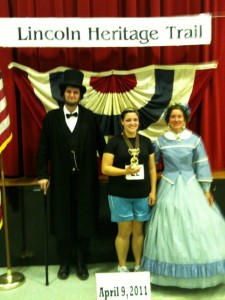 Miles for 4/9/11: 3 Miles
Total Miles: 41 Miles
This morning I did the Lincoln Heritage Trail 5K in Harristown, IL. I didn't have a very good time. I woke up late, got lost getting there, almost didn't make it in time. I was dead last in the race nearly the entire time. I haven't been dead last since my first 5K in May of 2010. I walked that entire 5K. But hey, someone has to be last and I did pass two people in the final mile.
I could have left the part about being dead last out of this post, but I think I'll talk about it.
I'd imagine that a lot of people wouldn't do a 5K (or other distance) race because of a fear that they would be last. Yes, it sucks to have people sympathetically cheer you on just because the only person behind you is the guy in the sheriff's truck holding off traffic.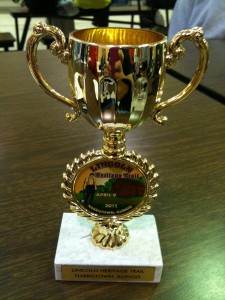 I was frustrated. I was thinking "I run all the time! I've ran a half marathon!". I'm just not a fast runner.
Every race is going to be different. It depends on how well it was marketed and what kind of people sign up, maybe even what kind of weather there is the morning of the race (maybe the not-too-dedicated runners/walkers decided to skip it).
The fact is, someone has to be last.  Don't measure yourself against other racers. Over my time as a runner, I've really been challenged by wanted to have a running partner. Last summer, I wouldn't go run if someone wouldn't go with me. I wouldn't do a race if I didn't know someone else doing it. That was probably the largest hurdle I had to overcome in running. Running is a challenge. Most importantly, it's an individual challenge.
"If you run, you are a runner. It doesn't matter how fast or how far. It doesn't matter if today is your first day or if you've been running for twenty years. There is no test to pass, no license to earn, no membership card to get. You just run."
–John Bingham
So don't be disheartened if you finish a race last. Someone will! Even though I finished this race almost last, I had my best time to date of 40:48! On top of that, I won my first-ever trophy. I ended up placing 2nd in my age range (ok, out of the 2 of us). Plus I got a pretty good finisher's medal and t-shirt (not to mention the picture I got to take with the Lincolns). So in the end, I really won ;)