After starting Weight Watchers (again… for the 3rd time), Chris & I have made an effort to pick up some healthier eating habits and cook from home more. We've divvied up days of the week that each of us will cook and selecting a recipe for our cooking days has become kind of fun. My days are Tuesdays and Thursdays. So from time to time, I'll share my recipes that turned out well on here :)
This is what I made tonight (we left out the onion). It was really good!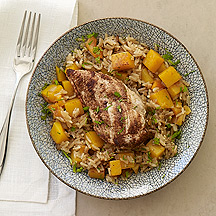 Moroccan Chicken with Apricots and Squash
http://www.weightwatchers.com/util/prt/recipe.aspx?Type=1&RecipeID=220921

Weight Watchers PointsPlus™ Value: 9
Servings: 4
Preparation Time: 18 min
Cooking Time: 42 min
Level of Difficulty: Easy

This fabulous one-pot meal can also be made in a slow cooker. If you don't have apricots on hand, try prunes. And pumpkin is tasty instead of squash.
Ingredients
1 tsp table salt, or to taste
1/4 tsp black pepper, freshly ground
1 pound(s) uncooked boneless, skinless chicken breast, four 4 oz pieces
3 spray(s) cooking spray
2 tsp olive oil
1 tsp Durkee Ground Cumin Seed, or other brand
1 tsp ground coriander
1/2 tsp ground cinnamon
1 large vidalia onion(s), chopped
2 cup(s) butternut squash, peeled and cut into1/2-inch cubes (about 3/4 lb)
3/4 cup(s) uncooked jasmine rice, or basmati rice, rinsed
16 halves dried apricot halves, roughly chopped
1 1/2 cup(s) canned chicken broth, or more if needed
1/4 cup(s) cilantro, fresh, minced

Instructions
Preheat oven to 400°F.
Rub salt and pepper all over chicken; set aside.
Coat a large oven-proof pot with cooking spray; heat over medium heat. Add oil; heat until it begins to shimmer. Add cumin, coriander and cinnamon; cook until fragrant, stirring, about 30 second to 1 minute. Add chicken; cook until lightly browned, flipping once, about 1 1/2 to 2 minutes per side. Remove chicken to a plate; set aside.
Add onion and squash to pot, scraping down sides and bottom of pot to incorporate pan drippings. Cook, stirring occasionally, until onions start to turn translucent and squash begins to soften, about 10 minutes. Add rice and apricots; place browned chicken on top. Pour in broth; bring to a boil for 1 minute.
Cover pot and bake in oven until rice and squash are tender and chicken is cooked through, checking half way through to see if more broth is needed, about 20 to 25 minutes. Sprinkle with cilantro before serving. Yields about 2 cups (including a piece of chicken) per serving.