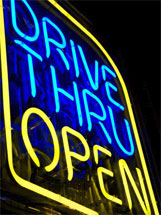 I'm not one of those people that can swear off fast food for the rest of my life. I've probably been eating fast food ever since I was old enough to chew it. I've been following a Weight Watchers diet plan for about 5 months now and I'm discovering many ways to eat fast food and avoid consuming all my daily Points in one meal!
Some fast food restaurants have some awesome online tools for figuring the nutrition information for your entire meal, customizations included. If you subscribe to Weight Watchers Online, you can search for restaurants and brands of food with their online tools as well.
Below are some fast food restaurants that I occasionally frequent during the work week when I don't feel like bringing a lunch or have errands to run. I'm sure you should still limit your intake of these meals but hey, Jared did the Subway diet, right? :)
McDonalds "Bag a McMeal" Tool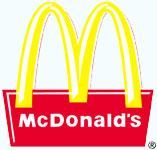 Select your foods, expand them to add/remove condiments, etc. Calculate your total OR View PDFs of all McDonalds foods & meals
Pros: What street corner doesn't have a McDonalds, right? Lots of locations open 24 hours. If the group stops here, you can eat with them.
Cons: Seems like everything here has a ton of fat. I'd never feed a Happy Meal to a child, they're better suited for adults. And the Value Meals should be illegal.
If you're going to go here: Think small portions, I usually go with a happy meal or mighty kids meal (chicken nuggets). Skip the fries – they're not worth it. Choose a 35-calorie Apple Dippers instead (minus the caramel sauce that comes with it).
Nicole's Favorite: Their low fat vanilla cones are 3 Weight Watchers Points and at 49 cents, you can't beat that awesome treat!
Taco Bell Nutrition Calculator


Choose your favorite foods and customize to calculate & reveal the nutrition information. Combine multiple items to recreate your exact order OR look at all their general nutrition information and diet advice.
Pros: If it looks healthy, it pretty much is. You don't need to know a lot about nutrition to eat here. Good for Weight Watchers beginners who aren't quite sure what to eat yet.
Cons: If you want all the creamy goodness of Mexican fast food (cheese!!!), you're going to be disappointed.
If you're going to go here: You pretty much can't go wrong with anything "Fresco Style".  Not a fan of salsa? Avoid cheese, sour cream, potatoes, and creamy sauces.
Nicole's Favorite: The new Cantina Tacos are GREAT! I hope they keep them around. They're 3 points each. Lunch is my biggest meal of the day so I usually get 3 tacos (9 pts).  Bonus: it comes with a lime wedge, which I squeeze into my Diet Pepsi! :)
Subway Nutrition Information


Look up your favorite sandwich's nutritional information. I wish Subway had a more interactive tool for calculating nutrition information since they are all about customizing your own sandwich.
Pros: Low points. Low fat. A million combinations for a different sandwich every time. Also serves breakfast!!
Cons: If you don't like vegetables, removing the cheese and sauce from a Subway sandwich can turn it sort of bland.  Depends what you like.
If you're going to go here: Stay away from their Limited Edition sandwiches. They're usually not diet-friendly. Keep in mind that the Subway worker will be shocked that you don't want cheese. I'm harassed every time. They're really trying to push their breakfast (which can be as low as a couple points for a sandwich!) so you can usually find free sandwich coupons!!
Nicole's Favorite: (Breakfast) English muffin with egg & some pepper (you can choose from normal egg or egg white) at only 2 Points. (Lunch/Dinner) Oven roasted chicken breast on wheat bread with tomato & double cucumbers. Baked Lays pack is only 2 Points!
Have a favorite diet-friendly fast food pick? Run into any other great fast food website's nutritional info/calculators? Share them here!!